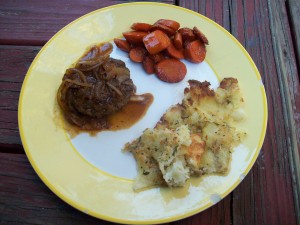 Lamb isn't always the most affordable of protein choices, but every once in a while, it's nice to have an option to serve it without breaking the bank. This riff on the old-school Salisbury Steak is an update worthy of Sunday dinner, but not any fussier than the original. You can make these patties even more budget-friendly by using 50% ground lamb and 50% ground beef, which will also give a somewhat milder flavor.
1 lb. ground lamb
2 cloves garlic, finely chopped or grated (I use a microplane for ease and speed)
1/2 tsp. salt
1/2 tsp. allspice
1/4 tsp. black pepper
2 large eggs
2 tablespoons olive oil
1 large onion, thinly sliced
2 cups sliced mushrooms, any variety
3 tablespoons balsamic vinegar
1 cup stock or broth – either chicken or beef will work fine
3 tablespoons no-salt tomato puree
In a medium bowl, combine the lamb and minced garlic. Season with the salt, pepper, and allspice, and mix well. Add the eggs and mix thoroughly until everything is evenly incorporated.
Heat the olive oil in a large non-stick or cast-iron pan over medium-high heat. Divide the lamb mixture evenly into 6 portions. Make each portion into a ball, then flatten into a patty. Brown the patties on both sides, then remove from the pan and set aside.
Pour off the excess grease in the pan, then add the onions and saute until they're softened, about 4-5 minutes. Add the mushrooms and cook for another 2-3 minutes.
Add the balsamic vinegar to the onions and mushrooms and cook, stirring, until the vinegar is nearly evaporated. Pour in the chicken stock and tomato puree and stir well.
Slide the lamb patties back into the sauce in the pan. Simmer the patties in the sauce for 7-10 minutes, turning once, until they're cooked through (you'll be able to tell because they'll feel firm to the touch). Serve the patties with some of the onions, mushrooms, and sauce spooned over the top.