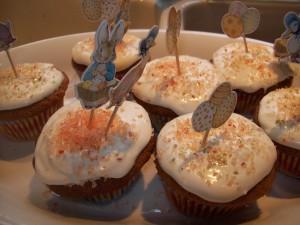 These are by no means an everyday indulgence, but sometimes, you just want a cupcake.  I invented this particular recipe in response to my boys' insistence one year that carrot cake was the only logical dessert with which to end our Easter meal.  The cupcakes are light, fluffy, moist, and they freeze beautifully (unfrosted).
1 cup (2 sticks) unsalted butter, melted
1/2 cup pure maple syrup (we use Grade B)1/2 cup granulated sugar (we use organic cane sugar)
1 cup plain full-fat yogurt
4 large eggs
1 1/2 tsp. vanilla
2 1/4 cups flour of your choice — all-purpose, white whole-wheat, or spelt will all work fine
1 tsp. baking soda
1 tsp. baking powder
3/4 tsp. salt
2 tsp. cinnamon
1/2 tsp. nutmeg
2 cups grated carrot
1 cup raisins
3/4 cup chopped pecans (you can also use walnuts if you prefer, or omit the nuts altogether)
Orange Cream cheese icing (recipe below)
Preheat your oven to 400 degrees.  Lightly grease or line 2 dozen muffin tins.
In a large bowl, beat together the butter, sugar, maple syrup, yogurt, eggs, and vanilla until smooth and creamy.  In a separate bowl, combine the flour, baking soda, baking powder, salt, cinnamon, and nutmeg.  Gradually add the dry ingredients to the wet, mixing just until everything is thoroughly combined.  Gently fold in the carrot, raisins, and pecans.
Scoop the batter into the prepared muffin tins and bake at 400 degrees for 15-20 minutes, until a toothpick inserted into the center of a cupcake comes out clean.  Allow the cupcakes to cool completely before icing.
Orange Cream Cheese Icing
This icing recipe employs a secret trick I learned years ago from my grandmother: Using sweetened condensed milk as a base for icings gives the smooth, creamy consistency so many of us are used to from the ready-made frostings sold in grocery stores.  You can buy higher-quality organic sweetened condensed milks in many stores.

1 cup sweetened condensed milk
8 oz. cream cheese, softened
1/2 cup (1 stick) unsalted butter, softened
2 tsp. vanilla
1/2 tsp. salt
Zest of 1 orange
About 3 cups confectioner's sugar (you may need slightly less or slightly more, depending on the consistency you prefer in your icing)
Using an electric mixer, beat together the sweetened condensed milk, butter, and cream cheese until smooth.  Add the vanilla, salt, and orange zest and mix well.  Slowly and gradually add the confectioner's sugar, until you've reached the desired consistency for your icing.  If you have extra icing left after you've frosted your cupcakes, this icing will last in an airtight container in the refrigerator for up to a month.