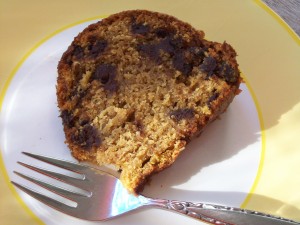 This cake is the perfect answer to all fall baking needs. It's simple to pull together, as baked goods go; it freezes well; and it's a crowd-pleaser. I developed the recipe last year for a Thanksgiving potluck, and every time I've made it, it's gotten rave reviews!
1 cup (2 sticks) unsalted butter, softened
1 1/2 cups light brown sugar
1/2 cup granulated (I use organic cane) sugar
1/2 cup sour cream (you can also use full-fat plain yogurt)
2 cups pumpkin puree
4 large eggs
2 tsp. vanilla
3 cups flour – you can use all-purpose, spelt, or white whole wheat
1 tsp. baking soda
2 tsp. baking powder
2 tsp. cinnamon
1 tsp. nutmeg
1 tsp. salt
1 1/2 cups dark chocolate or semisweet chocolate chips
Preheat oven to 375 degrees. Butter and flour a bundt pan; set aside.
Cream together the butter and sugars until fluffy. In a small bowl, mix the sour cream and pumpkin until well-incorporated. Add the pumpkin mixture to the butter and beat well. Add the eggs, one at a time, beating to incorporate them after each addition, and mix in the vanilla.
In a medium bowl, whisk together the flour, baking soda, baking powder, cinnamon, nutmeg, and salt. Add slowly to the wet ingredients, mixing just until fully combined. Fold in the chocolate chips.
Scoop the batter into the prepared bundt pan and smooth the top with a spatula. Bake at 375 for 1 hour to 1 hour and 20 minutes, until the cake is risen, golden brown, and a skewer inserted into the center comes out clean. Allow the cake to cool completely in its pan before inverting onto a serving platter. If desired, dust the top with a mixture of powdered sugar and cinnamon.