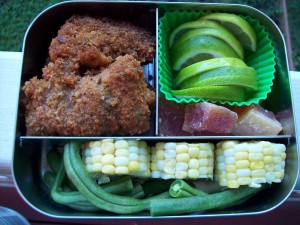 My kids are like most kids — they can't resist a good piece of breaded, crispy…well, pretty much anything, but mainly chicken.  They've actually never had a commercial chicken nugget, but they don't seem to mind, since I try to make these for them about once a month.
2 lbs. boneless, skinless chicken thighs (you can also use breasts, but we have found that the thighs make for a juicier and more flavorful nugget)
2 large eggs, well beaten
About 1/2 cup oil of your choice — we most often use coconut oil, olive oil, or a blend of the two for these
Breading:
1 1/2 cups whole-wheat panko breadcrumbs (you can also use regular whole-wheat breadcrumbs), OR 3/4 cup each finely ground puffed brown rice cereal and unsalted popcorn for a gluten-free nugget
1/3 cup freshly grated parmesan cheese (optional)
1 tsp. dried basil
1/2 tsp. salt
1/2 tsp. garlic powder
1/4 tsp. ground black pepper
Cut the chicken thighs into "nugget" shapes, whatever size and dimensions please you — I usually cut each one into about 3 pieces, which are generously sized "nuggets" but still small enough for kids to handle easily.
Mix the breadcrumbs (or GF substitutions), parmesan cheese, and seasonings together until they're fully incorporated.  Dip each chicken piece into the beaten egg to coat it thoroughly, then roll in the breading mixture.  Set aside and preheat your oven to 400 degrees.Pour enough oil into a large skillet to coat the bottom generously, about 1/4 inch deep.  Heat the oil over medium-high heat just until a pinch of the breading mixture dropped into the oil makes a slight sizzling sound and sends up a steady, but not frantic, stream of bubbles.
Working in batches, place the nuggets into the hot oil and cook for about 2-3 minutes on each side, just until golden brown.  Transfer the browned nuggets to a baking sheet.  Bake at 400 degrees for an additional 15-20 minutes.