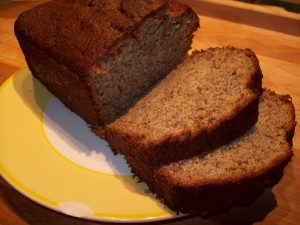 This is my version of an old-time recipe from a church cookbook.  I've lightened up on the sweeteners and substituted spelt flour for the original all-purpose in the recipe, resulting in a banana bread that is still as good as the one I remember from my childhood, but somewhat better for us.  I don't recommend removing all the cane sugar from the recipe, as it's necessary for the texture of the finished product.
3 very ripe bananas, mashed
1/2 cup (1 stick) unsalted butter, at room temperature
2/3 cup granulated sugar (I use organic cane sugar)
1/3 cup pure Grade B maple syrup
2 eggs
1 tsp. vanilla extract
1 3/4 cups whole spelt flour
1 tsp. salt
1 tsp. baking soda
Preheat oven to 375 degrees.  Lightly grease a standard loaf tin and set aside.
In a large bowl, beat together the bananas, butter, sugar, and maple syrup until light and fluffy.  Add the eggs and mix well.  Stir in the vanilla.
In a separate bowl, whisk together the spelt flour, salt, and baking soda.  Gradually add to the wet ingredients and mix just until everything is well combined.  Pour the batter into the prepared loaf pan and bake at 375 degrees for 40-50 minutes, just until a toothpick inserted into the center comes out clean.  Cool before slicing.