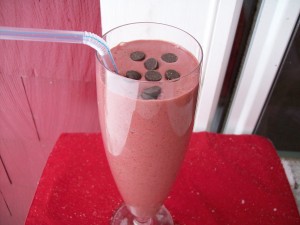 This smoothie gets its intense color from frozen raspberries and a little bit of jam. The addition of protein-packed yogurt and chia seeds makes it a breakfast drink that will keep you going until lunch, while the cocoa powder gives it a fun twist. You'll get 2-3 smoothies out of this, depending on the bellies you're trying to fill!
2 cups frozen raspberries
2 cups milk
1/2 cup plain yogurt
1/4 cup unsweetened cocoa powder
3 tablespoons raspberry or strawberry jam
2 tablespoons chia seeds
1 tsp. vanilla extract
Combine all ingredients in a blender. Blend on high speed until smooth and creamy, about 90 seconds.