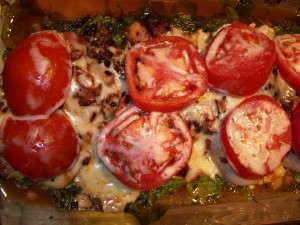 This is a terrific make-ahead meal.  Just assemble up to 2 days before you want to serve it, and bake when you need it.
2 lbs. boneless, skinless chicken breasts, cut into roughly 4-oz portions
6 slices bacon, preferably nitrate-free, diced
1 cup diced onion
6 cups roughly chopped kale or swiss chard
3 Tblsp. each dijon mustard and honey
6 Tblsp. olive oil
1 tsp.salt
½ tsp.black pepper
2 large tomatoes, thinly sliced
1 ½ cups shredded sharp cheddar cheese OR ¾ cup crumbled blue cheese
Preheat the oven to 400 degrees. In a large skillet over medium-high heat, cook the bacon and onions together until the onions are softened and slightly browned, and the bacon is fully cooked and slightly crisp.
Arrange the chopped kale or swiss chard in the bottom of a 9×13 baking dish. Arrange the
chicken breast pieces on top of the greens. In a small bowl, whisk together the honey,
mustard, olive oil, salt, and pepper until fully combined.
Pour the honey mustard mixture evenly over the chicken breasts. Top each piece of chicken with tomato slices. Distribute the bacon and onion mixture over the casserole, then top with the cheese of your choice.
Cover the dish with foil and bake at 400 degrees for 25 minutes, then remove the foil and bake for an additional 10 minutes to melt the cheese.