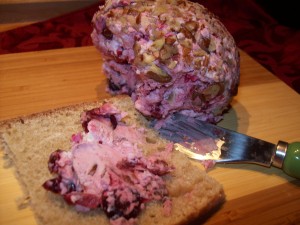 Spiced Cranberry-Pecan Cheese Ball
(Makes 2 balls – you can easily wrap one well and freeze it for the next festive occasion!)
Yes, I said "Cheese ball."  For many years, I was accustomed to seeing those bright orange, nut-coated balls of processed cheese spread on buffet tables.  As I grew up, my own parents moved away from the mall-kiosk cheese at the holidays, and for quite some time now my mother has served a baked wheel of Brie with a cranberry topping on festive occasions.  It's delicious but a little fussier than this recipe, and since it has to be served hot, it's not always convenient.  I decided to combine Mom's wonderful cranberry brie recipe with the concept of those ubiquitous cheese balls to create something easy, durable, and still totally celebratory.
10 oz. goat cheese
1 cup fresh cranberries
¼ cup dried cranberries (preferably sweetened with juice, not sugar)
1 ½ tsp. orange zest
2 tablespoons orange juice
¼ cup maple syrup
6 tablespoons water
½ tsp. salt
¼ tsp. ginger
¼ tsp. allspice
¼ tsp. pepper
1 tsp. fresh chopped thyme
½ cup pecans
Combine the fresh cranberries, dried cranberries, orange zest, juice, maple syrup, water, salt, ginger, allspice, pepper, and thyme in a medium saucepan.  Cook over medium heat, stirring occasionally, until the cranberries have all burst and the liquid has mostly evaporated, about 15-20 minutes; what you're looking for is the texture of a thick jam or chutney.  Allow the cranberry mixture to cool completely.
While the cranberry mixture is cooling, toast the pecans in a dry skillet over medium-high heat JUST UNTIL FRAGRANT.  Stand there and shake the pan while this is happening; it's not strictly necessary, but nuts burn very quickly and I've found that if I don't occupy myself by fussing with them I'll walk away and ruin them.  Once the nuts begin to smell lovely and slightly toasty, remove from the heat and let them cool, then chop them roughly.
To assemble the cheese balls, crumble the goat cheese into a bowl and break it up with a fork to make it easier to work with.  Add the cranberry mixture and stir (again, I recommend using a fork; it helps keep the goat cheese fluffier so the ingredients are easier to combine).  When everything is fully incorporated and the cheese is a lovely shade of holiday pink, place half of the cheese mixture in a mound on a sheet of plastic wrap or parchment.  Use the plastic wrap to help you gather it into a ball and press firmly; I found that twisting the ends of the plastic wrap to help compact the cheese balls was a useful trick.  Once you've got a relatively nicely shaped ball, unwrap it and roll it in the chopped pecans until it's coated all around.  Wrap well and chill for about 20 minutes to help it set.   Repeat with the remaining cheese and nuts.
I recommend serving this with hearty flatbread crackers or crostini; we tested ours on squares of well-toasted homemade bread and it was just perfect.  For friends who may be gluten or grain free, set out some spears of endive.  The slightly bitter, crunchy leaves will be the perfect complement to the sweet and tangy cheese spread.