These are not at all challenging to make — in about 20 minutes of light work, you can have crispy, savory little parcels that are perfect for snacking, lunchboxes, parties, or even a simple dinner.  You could easily mix up the filling to add different vegetables, omit the meat altogether, use the traditional pork rather than chicken, or do whatever it is you'd like to do to use up the particular odds and ends of your refrigerator.  I just happen to think this chicken-cashew combination is a nice one that feels simple and kid-friendly without being dumbed down.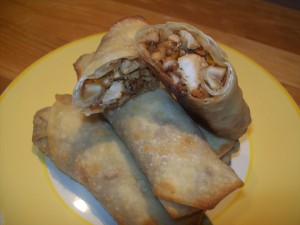 Cashew Chicken Spring Rolls (makes 8)
8 spring roll or egg roll wrappers
2 cups finely diced or shredded cooked chicken
1 tablespoon oil of your choice (coconut oil works well), plus extra for brushing the rolls
2 cloves garlic, minced
1/2 cup finely diced or shredded carrots
1/2 cup finely chopped bell pepper
1/4 tsp. red pepper flakes
1/4 tsp. ground ginger
2 tsp. honey
2 tsp. tamari or soy sauce
1/2 cup roughly chopped roasted salted cashews
Preheat oven to 400 degrees.  Lightly grease a baking sheet.
In a skillet over medium heat, saute the garlic, carrot, and bell pepper in the oil until just softened, about 5 minutes.  Add the diced chicken, red pepper flakes, ginger, honey, and tamari; mix thoroughly and cook until fully heated through.
To fill the rolls, place a wrapper diagonally with one of the points facing you.  Spread about 3 tablespoons of the filling across the center, from the left point to the right.  Fold the bottom over the filling, fold the left and right points in, and moisten the top flap with some water.  Roll the whole spring roll upwards to seal it, then place seam-side down on the prepared baking sheet.  Repeat with the remaining wrappers and filling.
Lightly brush the rolls with oil and bake at 400 degrees for 10-12 minutes, until golden brown.