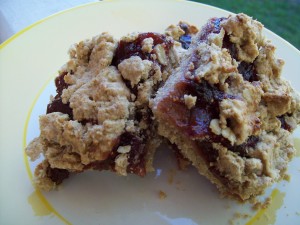 Filling:
2 pints fresh figs, stems removed, quartered
1 cup roughly chopped plums OR 1 cup raspberries or blackberries
¾ cup raisins
1/3-1/2 cup pure Grade B maple syrup (this really depends on two factors: Your individual taste preference, and the overall sweetness of your fruit)
1 tablespoon water
1 tsp. cinnamon
Juice of ½ a lemon
Crust:
1 cup (2 sticks) unsalted butter, softened (you can also use ghee or coconut oil if you're casein-free)
3 large eggs
2 tablespoons pure Grade B maple syrup
1 tsp. pure vanilla extract
3 cups pure rolled oats, divided
1 cup whole spelt flour (if you're gluten-free, you can try substituting almond meal, quinoa flour, or coconut flour; you may need to add an additional egg to bind.)
½ tsp. salt
To make the filling, combine the figs, plums, and raisins in a medium saucepan.  Add the maple syrup and water and cook over medium heat, stirring occasionally, until the fruit has entirely broken down and the mixture has a thick, jam-like consistency.  Remove from the heat and stir in the cinnamon and lemon juice.  Allow the filling to cool slightly.
Preheat your oven to 375 degrees.  Lightly grease a 9×13 baking dish and set aside.
In a large bowl, beat the butter, eggs, 2 tablespoons maple syrup, and vanilla extract until smooth and evenly combined.  In a blender or food processor, grind 2 cups of the pure rolled oats until they're a fine powder.  In a medium bowl, combine the ground oats, spelt flour, salt, and the additional 1 cup of rolled oats.  Gradually add to the butter mixture, beating just until a soft dough comes together.
Spread about 2/3 of the crust dough into the bottom of your prepared baking dish.  The easiest way to do this is to use a sheet of parchment or waxed paper to help press the dough evenly into the dish; otherwise, it will stick to your hands.  Once you've got an even layer of dough completely covering the bottom of the dish, spread the fig filling over it – no need to leave a border.
Divide the remaining dough into roughly pea-sized crumbles to cover the surface of the filling.  Bake the bars at 375 degrees for 35-40 minutes, until the topping is lightly golden brown and the crust appears set.  Allow the bars to cool completely before cutting.  These can be individually wrapped and frozen.