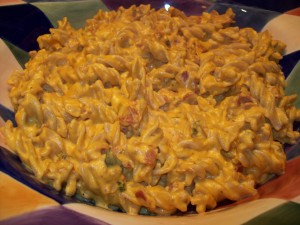 Pumpkin Carbonara
(Makes enough sauce for a pound of pasta, a couple of spaghetti squashes, or a pound of gnocchi.)
There is no right way to eat this sauce.  I tested it first over pasta, as is traditional, but of course you may not want to serve pasta with your Thanksgiving dinner.  (Though you COULD…)  I'd recommend tossing this with some spaghetti squash for a different take on the same old squash side dishes; or pouring it over gnocchi for a unique substitution for mashed potatoes.  Or, of course, you could save it until the Thanksgiving weekend, when everyone's getting tired of the turkey leftovers but there are still hungry family members around to feed.

1 ½ tablespoons olive oil
8 strips uncured nitrate-free bacon
6 cloves garlic, minced
1 ½ tablespoons chopped fresh sage
1 tsp. salt
½ tsp. black pepper
¼ tsp. ground nutmeg
2 cups pumpkin puree
1 ½ cups heavy cream
½ cup parmigiano reggiano cheese
3 egg yolks, beaten
1 cup starchy cooking water from your pasta or gnocchi, or a cup of chicken or vegetable stock would do just fine.
Heat the olive oil in a heavy skillet.  Add the bacon and cook until just shy of crisp.  Add the garlic and fresh sage and cook, stirring, for about 2 minutes, until the bacon is crisp and the garlic is fragrant but not brown.  Season with salt, pepper, and nutmeg, and add the pumpkin puree.  Cook over medium heat for 4-5 minutes, stirring frequently, to cook out the "raw" flavor of the pumpkin.
Whisk in the heavy cream and reduce the heat to low.  Cook on low heat for 10-15 minutes, whisking occasionally.  Gradually whisk in the pasta water or stock just before the end of cooking time, to thin the sauce out.
In a small bowl, combine the cheese and egg yolks.  Slowly whisk the yolk mixture into the sauce, making sure to stir continuously so the eggs don't seize up.  Cook, whisking continuously, for 2-3 additional minutes.  Taste the sauce and adjust seasonings as necessary — the saltiness of your bacon and parmigiano cheese will impact the amount of salt you need.  Toss the sauce with hot pasta, gnocchi, or spaghetti squash and serve with additional cheese, if desired.