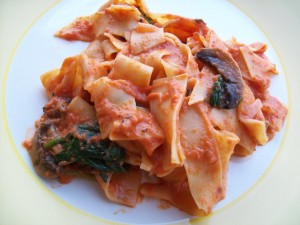 It's rare that I make a meatless meal that pleases every person at our table, but when I first put this recipe down in front of my three guys, there was silence — their mouths were too full for them to talk.  You can omit the vodka if you absolutely must, but I think it gives a distinctive flavor that really makes the dish. 
16 oz. egg pappardelle or tagliatelle, cooked according to package directions
SAUCE:
2 tablespoons olive oil
1 large onion, finely chopped
4 cloves garlic, minced
1/2 tsp. salt
1/4 tsp. crushed red pepper flakes
6 cups tomato puree
1/3 cup vodka
1 1/2 tsp. dried oregano
1 cup heavy cream
MUSHROOM MIXTURE:
12 oz. mushrooms, any variety — even plain old budget-friendly button mushrooms will work fine
1 1/2 tblsp. olive oil
1 tblsp. butter
3 cloves garlic, minced
1/2 tsp. salt
1/4 tsp. pepper
1/4 tsp. nutmeg
6 cups baby spinach or roughly chopped mature spinach leaves
In a large, heavy pot over medium heat, warm the 2 tablespoons of oil and sweat the chopped onions and 4 cloves of garlic until translucent, about 4 minutes.  Add the salt, crushed red pepper, and tomato puree.  Stir well, then add the vodka and oregano.  Bring to a boil; boil the sauce for about 3-5 minutes to help burn off some of the alcohol, stirring occasionally, then reduce the heat to a simmer and let the sauce cook for an additional 10 minutes.
While the sauce is cooking, heat the 1 1/2 tablespoons of olive oil with the butter in a wide skillet.  Slice the mushrooms thinly and add them to the hot butter and oil.  Try to distribute them in as even a layer as you can, and don't stir them too much — that's the secret to getting them nicely golden and not soggy.  Once they begin to brown, add the garlic, stir, and let the mushrooms continue cooking until they're golden all over.  Season with the salt, pepper, and nutmeg, then add the spinach and stir until it's wilted.
Add the heavy cream to the vodka sauce and let it cook for 3-5 minutes more, being careful not to let it boil.  Toss the cooked pappardelle with the mushroom mixture and gradually add the sauce, tossing to coat; the freshly cooked pasta will begin to soak up the sauce, so don't be afraid of using more than you think it may need at first.  Serve immediately, with freshly grated Parmesan if you'd like.