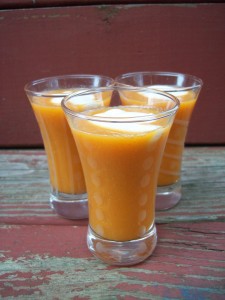 I created this recipe as part of a challenge from Williams-Sonoma. They asked me to come up with a healthy juice recipe that was based on a favorite dessert. Somehow, the idea of drinking a shot of carrot cake just made sense to me. (Don't ask me how!) It must have been a good idea, though, because when P. got home from kindergarten and saw the shot glasses lined up on the counter, he went down the line and drank every single one!
1/4 cup whole-milk yogurt
1/8 tsp. cinnamon
1 cup cubed, peeled pineapple (fresh is best; use thawed frozen if you need to!)
1/2 cup grated carrot
1/4 cup water
2/3 cup pitted dates
Scoop the yogurt into a fine mesh strainer lined with either cheesecloth or a coffee filter. Set the strainer over a bowl or measuring cup and allow the yogurt to drain for at least 15 minutes.
Once the yogurt has thickened slightly, transfer it to a small bowl and add the cinnamon. Mix thoroughly and set aside.
Combine the pineapple, carrot, and water in a blender. Blend at high speed until smooth. Add the dates and continue to blend until everything is evenly pureed.
Strain the carrot mixture through a fine mesh sieve into a pitcher, then pour the resulting juice into four shot glasses. Top each with a dollop of the cinnamon yogurt.