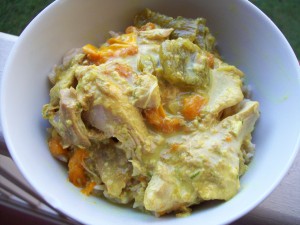 This is a rich and delicious dish, but the flavors are surprisingly subtle.  If you're not concerned about keeping things mild for sensitive palates, you might want to consider increasing the amount of crushed red pepper in the recipe; otherwise, those who like things spicier can add some additional flakes to their own plates at the table.
2 lbs. boneless skinless chicken thighs
3 large bell peppers, cut into 1-inch chunks
2 medium onions, sliced
6 cloves garlic, minced
1 2-inch piece of fresh ginger root, grated
1 1/2 tsp. turmeric
1 1/2 tsp. salt
1/2 tsp. black pepper
1/4 tsp. crushed red pepper flakes
3 cups coconut milk
1 cup chicken stock
Zest of 2 limes
1/2 cup sliced fresh basil leaves, or 1/4 cup chopped fresh cilantro
Combine chicken, peppers, onions, garlic, and ginger in the bottom of your slow cooker.  Season with turmeric, salt, black pepper, and crushed red pepper flakes, and toss to coat.  Pour in the coconut milk and chicken stock and stir.  Refrigerate overnight.
Cook the chicken mixture on low for 6 hours.  The sauce will appear broken; don't be alarmed.  Remove the chicken and as many of the vegetables as possible from the sauce using a slotted spoon, and transfer them to a large serving bowl.  Add the lime zest to the sauce and blend, either using a traditional blender or an immersion blender, until smooth — this should only take a minute and will emulsify the sauce again.  Pour the sauce over the chicken and vegetables and add the fresh herbs.  Serve over rice or quinoa.