This is based on my grandmother's old recipe for pumpkin soup, which was already ridiculously easy.  I've tweaked it slightly, made it even easier, and I think it is now officially the quickest and simplest pumpkin soup in the history of the world.  It's not as fancy and glamorous as some pumpkin soups; it's not as thick as some pumpkin soups; but it's good, it's easy, and L. really likes it for a cool-weather lunch.
Quickest Pumpkin Soup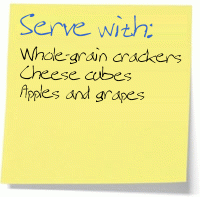 1 small onion, diced
4 tablespoons butter
2 cups pumpkin puree
4 cups chicken or vegetable stock, preferably homemade
1 1/2 tsp. salt
1/2 tsp. pepper
pinch nutmeg
1/2 cup cream (you can use heavy, light, half-and-half…the only thing that'll be affected is the thickness of the soup)
In a large pot over medium heat, sweat the onion in the butter until it's soft and translucent.  Add the pumpkin, stock, salt, pepper, and nutmeg.  Cover, bring to a boil, and reduce to a simmer.  Cook for 20-25 minutes, stirring occasionally.  Remove from the heat, add the cream, and either blend with an immersion blender or run through a regular blender to smooth the soup out.  Taste, adjust seasonings, and serve immediately or pour into a preheated thermos.