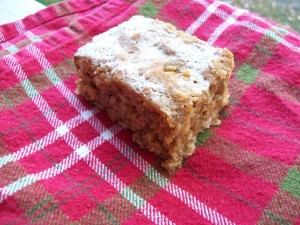 These are an easy, gluten-free treat to whip up in a hurry.  They're not health food — there's plenty of butter and sweet stuff here — but they're wholesome in a stick-to-your-ribs kind of way, and they are absolutely delicious.  Like a marriage of cake, blondie, and cookie, Grizzly Bars are a wonderful thing to pull together from a nearly empty pantry at a hectic time of year.
Makes 12-16 bars, depending on your generosity.
For the bars:
1/2 cup (1 stick) unsalted butter, softened
1 cup unsweetened, salted peanut butter (if you have no-salt peanut butter, add 1 tsp. of salt to the recipe)
3/4 cup brown sugar
4 large eggs
2 tsp. vanilla extract
2 cups rolled oats (make sure to use "pure" GF oats if you're gluten-free)
For the honey butter:
6 tablespoons unsalted butter, softened
1/3 cup honey
1 tsp. vanilla extract
1/2 tsp. cinnamon
Preheat the oven to 375 degrees.  Lightly grease a 9×9 inch square baking dish.
In a large bowl, beat the 1/2 cup butter, peanut butter, and brown sugar together until smooth and creamy.  Add the eggs one at a time and beat well.  Stir in the vanilla and then fold in the rolled oats, until everything is evenly combined.
Pour the batter into the prepared dish and bake at 375 degrees for 35-40 minutes, until golden brown and set.  Allow to cool for a few minutes while you make the honey butter:
Whip together the butter, honey, vanilla, and cinnamon at high speed until smooth and fluffy.
Using a toothpick, poke holes in the top of the warm grizzly bars.  Spread the honey butter over the top and allow it to melt, seeping down into the bars.  Cut into squares and serve warm or room temperature.