This is one of those treats that's sort of a "borderline" choice — not squarely "healthy" (though I admit to having eaten one or two for breakfast on busy mornings), but not so terrible that I wouldn't let the boys have one occasionally as an after-school snack.  It's really my answer to L. noticing that other kids at school are bringing packaged Rice Krispy treats and chewy chocolate granola bars for snacks.  While he's a good enough child to not complain about not having those things, I also like to find ways to make him feel more included — hence, this marriage of the iconic krispy treat with a chewy granola bar.  The fact that it has plenty of sugar makes it an occasional choice, while the almond butter and whole grains make me feel a bit better about its staying power.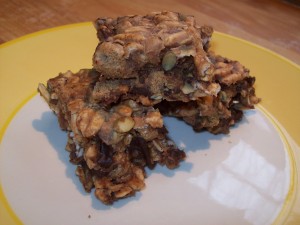 Almond Butter-Chocolate Chip Cereal Treats
3 cups puffed brown rice cereal (single ingredient, preferably – Nature's Path is a good inexpensive choice)
2 cups of another whole-grain cereal of your choice – we used an organic O-shaped cereal
1 ½ cups rolled oats
1 ½ cups roasted salted pumpkin or sunflower seeds
1 cup sweetened condensed milk, preferably organic (you can also make your own)
¾ cup unsweetened single-ingredient almond butter
2 tablespoons pure maple syrup
2 tsp. pure vanilla extract
1 cup dark chocolate chips
Preheat oven to 375 degrees.  Lightly grease a 9×13 inch baking dish, preferably glass, and set aside.
In a small saucepan over medium heat, melt the almond butter, maple syrup, and condensed milk together until the mixture is smooth.  Remove from the heat and allow the mixture to cool slightly.
In a large bowl, combine the cereals, rolled oats, and seeds.  Pour the almond butter mixture over the cereal mixture and stir until thoroughly coated.  Add the chocolate chips last (to keep melting to a minimum) and stir to combine.
Transfer the cereal mixture to the prepared dish.  Using slightly wet hands, press it out until it's evenly distributed throughout the dish and is compact.  Bake the bars at 375 for 15-20 minutes, until just barely golden brown on top.
Allow the bars to cool completely before cutting.  To cut them, I recommend turning the whole pan out onto a work surface and using a large serrated knife.  You should get about 18-24 bars from one pan.