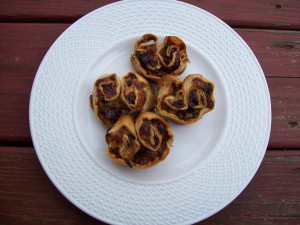 These are perfectly suited to a cocktail party (and you could do straight spirals rather than the cute "heart" shape if you'd prefer), but they're also a fun way to dress up savory food on Valentine's Day.
3 sheets phyllo dough, preferably whole-wheat, cut in half crosswise
3 tablespoons olive oil
1 cup shredded mozzarella cheese
3/4 cup diced sundried tomatoes
2 tablespoons grated parmesan cheese
1/2 tsp. salt
1/2 tsp. dried basil
1/4 tsp. garlic powder
Preheat your oven to 400 degrees and lightly grease a baking sheet.
Combine the cheeses, sundried tomatoes, and seasoning in a small bowl, tossing until thoroughly mixed.
Lay one section of the phyllo dough out onto a flat surface and brush all over with olive oil. Stack another section on top, brush with oil, and continue repeating until you have 6 layers (finishing with phyllo dough – don't oil the top piece).
Sprinkle the tomato and cheese mixture evenly over the layered phyllo dough. Beginning at one of the short ends, roll the pastry into a tight spiral, stopping at the middle. Now roll from the other end into the middle, until the two spirals meet.
Using a very sharp knife, cut the ends off the roll to even them out, then cut crosswise into eight equal pieces (about 1/2 inch each). Lay the "hearts" on the prepared baking sheet and gently reshape them as needed.
Bake at 400 degrees for 15-20 minutes, until golden brown and crisp.