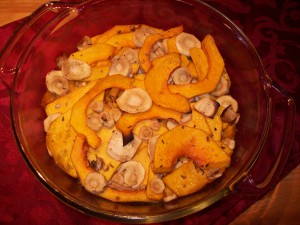 Butternut Squash and Parsnip Tian
(Serves 6)
Butternut squash is practically required on a Thanksgiving table.  Everyone's got their favorite way to cook it, but sometimes, you need a bit of a change from the old routine.  Layering slices of the squash with the humble and oft-ignored root vegetable, parsnip, offsets its natural sweetness; adding the unexpected flavors of balsamic vinegar and garlic dresses it up and gives it a sophisticated, but still family-friendly, edge.

2 tsp. chopped fresh thyme
6 cloves garlic, minced
1 tablespoon honey
¼ cup balsamic vinegar
¼ cup olive oil
1 tsp. salt
½ tsp. pepper
1 medium butternut squash, peeled, seeded, and thinly sliced (about 1/4 inch thick)
4 medium parsnips, peeled and thinly sliced
In a large bowl, whisk together the thyme, garlic, honey, vinegar, oil, salt, and pepper to make a light dressing.  Add the squash and parsnips and toss to coat evenly.  At this point, you can let the vegetables marinate in the dressing for anywhere from 2 hours to overnight.
When ready to bake the vegetables, preheat the oven to 400 degrees.  Pour the marinated vegetables into a 2-quart casserole dish; properly, you'd layer them prettily for a tian, but I settled for just making sure they were evenly distributed and looking relatively tidy.  Bake at 400 degrees for 40-45 minutes, until the vegetables are fork-tender.