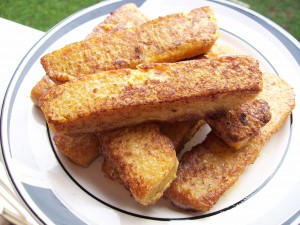 These require a little bit of advance work, but once the polenta has chilled and set, it's no harder to make this gluten-free French "toast" than it is to make the traditional version.  Keep any uneaten sticks in the refrigerator or freezer for easy toaster-oven heat-ups on busy mornings.
Pumpkin Polenta:
1 cup polenta (coarse cornmeal — the raw product, not the pre-cooked logs)
1/4 tsp. salt
2 cups water
1 cup milk (use almond milk if you're dairy-free)
1 tsp. cinnamon
1/2 tsp. nutmeg
1 cup pumpkin puree
3 tablespoons pure maple syrup (we use Grade B)
2 tablespoons unsalted butter (optional)
French Toast Batter:
4 eggs
1/4 cup milk
1 tsp. cinnamon
1/4 tsp. nutmeg
1 tsp. pure vanilla extract
Unsalted butter or coconut oil, for frying
To make the polenta, heat the water and 1 cup milk in a medium saucepan until boiling.  Gradually whisk in the polenta until it's fully incorporated.  Add the salt, cinnamon, and nutmeg, and reduce the heat to a simmer.  Cook the polenta, stirring frequently with a whisk to keep it smooth, until it's thickened and no longer gritty, about 10-15 minutes.
Add the pumpkin puree, maple syrup, and butter (if using).  Stir to combine and cook for an additional 3-5 minutes to melt the butter and let the ingredients meld.
Lightly butter a loaf pan and pour the polenta into the prepared pan.  Allow the polenta to cool to room temperature, then cover the loaf pan and refrigerate for a minimum of 3 hours, or overnight, until the polenta has set into a firm loaf.
To make the french "toast" sticks, turn the polenta loaf out of its pan and slice it about 1/2 inch to 3/4 inch thick.  Cut each slice horizontally in half to create sticks.  In a shallow dish, beat the eggs thoroughly, then add the cinnamon and nutmeg and whisk to distribute the spices throughout the egg mixture.  Add the milk and vanilla and mix well.
Melt about a tablespoon of butter in a cast-iron or non-stick skillet over medium-high heat.  Working in batches, dip the polenta sticks in the egg batter, turning to coat well.  Let them sit in the batter for 1-2 minutes, then remove them and place them into the hot pan.  Cook the sticks for about 3 minutes per side, until golden brown and slightly crisp, making sure to also sear the edges if they appear particularly "raw."  Repeat with the remaining polenta sticks.  Serve warm, with pure maple syrup or apple butter for dipping.