Sometimes, you just wish lunch would make itself.  I get it.  And unfortunately, that's not possible in the real world…but this one is darned close.
See, you'll have to do a few things to PREPARE this noodle bowl, but it will in fact cook itself before lunchtime while it hangs out in the thermos.  Cool, huh?  Like most of my other lunch recipes, it's customizable to what your kids' tastes are, but I made our version with beef because that's a particular favorite of L.'s.  He liked it so much that he told me we need to make it for dinner soon, so the whole family can have some.
Easy Noodle Bowl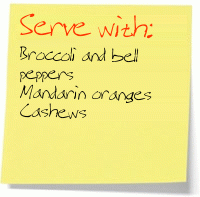 1 1/2 cups beef stock, preferably homemade
1 tablespoon diced scallions
1-2 tsp. miso tamari (I found this at Whole Foods)
4 cremini or shitake mushrooms, sliced very thinly
3 tablespoons finely grated carrot (I used a microplane)
3 oz. very thinly sliced beef — you can even use deli roast beef if you'd like.  Shaved steak is a good option as well.
About 1/3 cup broken brown rice noodles
In a small saucepan, combine the beef stock, scallions, and 1 tsp. of miso tamari.  Bring to a boil and simmer for about 10 minutes, while your thermos is preheating.  Taste and add more miso tamari as needed, depending on your preference and how rich your stock is.
Pour the stock into the preheated thermos.  Quickly add the mushrooms, carrots, beef, and noodles, and stir to combine.  Make sure the beef and noodles are submerged before putting a lid on the thermos and packing in the lunchbox.  The beef, noodles, and vegetables will all cook in the hot stock before lunchtime.