Why endure a lot of stress, work, and expense to make a great dessert for guests?  With no more effort or any greater number of ingredients than you'd need for the average chocolate-chip cookie, you can make a warm, gooey dessert that's part cookie, part pie, part cake, and all delicious.  This recipe will work with all-purpose flour or with white whole-wheat flour, whatever you've got on hand; you could also add in some chopped nuts or white chocolate chips if you'd like.  I wouldn't, however, mess with the ratios of brown sugar and maple syrup, since you might risk ruining the texture.  Serve this warm with whipped cream or vanilla ice cream.
Chocolate Cookie "Pie"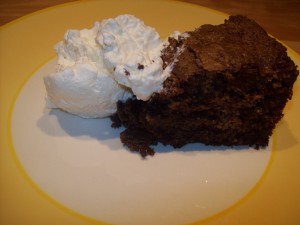 1 cup (2 sticks) plus 4 tablespoons unsalted butter
1/2 cup packed light brown sugar
1/2 cup Grade B pure maple syrup
3 large eggs, beaten
2 teaspoons vanilla extract
1 1/2 cups all-purpose or white whole wheat flour
1 tsp. salt
1 tsp. baking soda
1/2 tsp. baking powder
12 oz. semisweet or dark chocolate chips
Preheat your oven to 350 degrees.  Grease a 9 inch cake tin and set aside.
In a medium saucepan, melt together the butter, brown sugar, and maple syrup.  Let cool to room temperature.
In a separate bowl, beat together the eggs and vanilla extract.  When the butter mixture is cooled, beat in the egg mixture until thoroughly incorporated.  Whisk together the flour, salt, baking powder, and baking soda, and add them to the wet ingredients.  Stir just until combined, then mix in the chocolate chips.  (If the mixture isn't one hundred percent cool, they might melt.  Don't worry about it.  This will not ruin anything.)
Pour the batter into the prepared cake tin and bake at 350 degrees for 40-50 minutes, until the edges are brown and set, the top is crusty, but the center still jiggles when you shake the tin.  Allow the pie to cool completely, during which time you can expect that the center will settle — this creates the effect of a thick crust around the outside edge, and a flatter center, like a real pie.  Reheat gently before serving.