Sure, you could make a turkey and cheese sandwich — but what fun would that be?  More importantly, how well would it freeze?  (I know there are people who swear they make their kids' sandwiches by the dozens ahead of time, stick them in the freezer, and thaw them in the lunchbox each day, but I can't for the life of me imagine that a turkey sandwich so mistreated would turn out well.)  These hand pies freeze perfectly and are simple to make; plus, you can customize the ingredients any way you'd like.  We found that after some trial and error, the turkey-cheese-spinach-bacon combination was the runaway favorite in our house, but you can do what you like.
Don't be intimidated by the pastry crust, by the way.  It's the fastest, easiest crust you'll ever put together, and it holds up to lots of abuse.  The butter makes it flaky, while the yogurt makes it beautifully tender.
Turkey and Cheese Hand Pies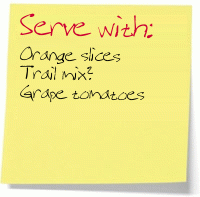 1 cupwhite whole-wheat flour
1/2 tsp. salt
4 tablespoons unsalted butter, very cold, diced
1/3 cup plain yogurt
4 oz. cooked turkey, preferably thinly sliced — we find that Whole Foods offers thinly sliced, in-store cooked turkey breast at the deli counter, so I often buy that.
4 slices deli cheese of any variety you prefer — we like organic muenster or swiss for these
About 1/2 cup baby spinach leaves
4 slices cooked bacon, cut into thirds
Preheat the oven to 400 degrees.  To make the dough, combine the flour and salt in a medium bowl.  Add the butter and "cut" it into the flour mixture, using a pastry blender, two knives, or even the tines of a fork — you want to get it to the point where the flour looks like coarse crumbs.  Add the yogurt and mix quickly, until the dough comes together.
Turn the dough out onto a lightly floured surface and knead quickly just to bring it into a single mass.  Cut into four equal portions.  Using the heel of your hand (why bother with a rolling pin?), press each portion of dough out into a rough circle, about 4-5 inches in diameter — basically, you want it to be just larger than one of the slices of cheese you're using, by at least 1/4 inch all around.
Lay a slice of cheese in the center of each circle of dough.  Top with 1/4 of the spinach leaves, then 3 pieces of bacon.  As necessary, fold the slices of turkey to neatly fit on top — I usually find that folding mine into fourths works perfectly.  Lay the turkey over the bacon, then carefully fold the whole pie in half, making sure to keep the filling securely inside.  Press down around the edges firmly and crimp if needed to keep the pies together.
Place the pies on a lightly greased baking sheet and bake at 400 degrees for 15 minutes, until the pastry is golden brown and the bottoms are set.