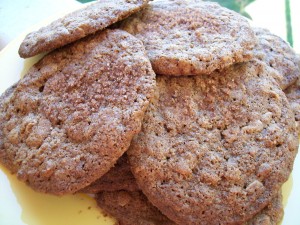 These are light, crispy, and spicy — perfect with a cup of tea.  The spelt flour isn't a requirement; you could use all-purpose or white whole wheat flour instead, but I like the nuttiness and lightness that spelt flour brings to the recipe.
1 cup (2 sticks) unsalted butter, softened
1 cup packed light brown sugar
2 large eggs
2 tsp. pure vanilla extract
1 1/2 cups spelt flour
1 cup rolled oats
2 tsp. cinnamon
1 tsp. ground cardamom
1/2 tsp. ground cloves
1 tsp. baking soda
3/4 tsp. salt
1/4 cup pure cane sugar
1 tsp. cinnamon
Preheat oven to 375 degrees.
Beat together the butter and brown sugar until smooth and fluffy.  Add the eggs and mix thoroughly.  Stir in vanilla.
In a large bowl, whisk together the spelt flour, rolled oats, 2 tsp. cinnamon, cardamom, cloves, baking soda, and salt.  Gradually add to the butter mixture.  Beat gently just until thoroughly incorporated.
In a small bowl, combine the cane sugar and 1 tsp. cinnamon.  Scoop the batter out onto ungreased baking sheets by tablespoons.  With damp fingers, lightly flatten the cookies, then sprinkle the tops with 1/4/ to 1/2 tsp. cinnamon-sugar topping each.
Bake the cookies at 375 degrees for 12-14 minutes, until lightly golden brown and set.  Remove from the pan to cool.