I call this "Greek-Style" because it uses the best of the flavors that come to my mind when I think of Greece: lemons, olive oil, garlic, fresh herbs, kalamata olives.  There are probably endless variations to be enacted upon this simple salad.  You can use whatever herbs you like, pretty much; you can substitute one vegetable for another; you can use cous cous instead of quinoa, or even wild rice if you really wanted to.  You could leave out the chicken entirely for a vegetarian dish, or leave out the cheese if you're dairy-free.  In fact, this is just a light, refreshing, easy throw-together that's more a template than a hard and fast recipe.  And best of all, it's practically no-cook, so it'll be the perfect thing in the summer heat.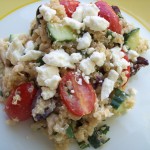 Greek-Style Chicken and Quinoa Salad
1 1/2 cups uncooked quinoa, rinsed thoroughly and drained
3 cups diced cooked chicken (I use the leftovers from a Sunday roast)
1 cup pitted kalamata olives, halved
1 pint grape tomatoes, halved
2 cups English cucumber, in large dice
1 cup roughly chopped fresh basil
1/2 cup roughly chopped fresh flat-leaf parsley
Juice of 3 lemons
5 cloves garlic, roughly chopped
3 tablespoons honey
1 teaspoon salt
1/2 teaspoon black pepper
1/2 cup extra virgin olive oil
1/2 cup crumbled feta cheese, for garnish
Cook the quinoa according to package directions.  Set it aside and allow it to cool to room temperature (or make the quinoa ahead of time and keep it in the refrigerator for up to 2 days before assembling the salad).
In a large bowl, combine the chicken, olives, tomatoes, cucumbers, basil, and parsley.  Put the lemon juice, garlic, honey, salt, pepper, and olive oil into a blender and blend on high speed for 2-3 minutes, until the dressing is completely smooth.  Pour the dressing over the chicken and vegetable mixture and toss to coat completely.
Add the quinoa to the chicken and vegetables and stir until everything is thoroughly combined.  Taste and adjust seasonings as necessary.  Top each serving with a tablespoon or two of crumbled feta cheese.