These waffles are so delicious, so unidentifiably gluten-free, that I can't think of any reason not to serve them to wheat-eating friends and family with abandon.  I created this recipe with the goal of providing a wheat-free waffle that was as warm and comforting as the "real" thing, but would be no more difficult to make — and, more importantly, would be nutritionally valuable and not require a number of different exotic ingredients that wouldn't likely be in my pantry (or yours).  My only word of caution here is to handle your waffles a bit gently, since they're more delicate and more apt to crumble apart than a wheat-flour waffle; but once on a plate, with a touch of maple syrup or some fresh fruit on top, they'll be a perfect breakfast.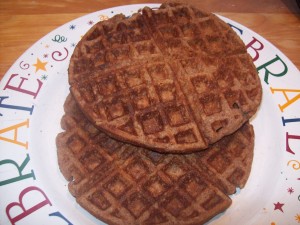 Cinnamon-Pecan Waffles
(Makes 5-6 waffles)

2 cups whole pecans, ground in a blender or food processor to a fine meal
4 large eggs
1/2 tsp. cream of tartar
1/2 tsp. salt
2 tsp. ground cinnamon
2 tablespoons sugar
2 tablespoons pure maple syrup (I prefer Grade B)
1 tsp. vanilla extract
1/4 cup melted butter (use melted coconut oil to make these dairy-free as well)
In a stand mixer or using electric beaters, beat the eggs until frothy.  Add the cream of tartar, salt, cinnamon, sugar, maple syrup, and vanilla extract; beat at medium-high speed until the egg mixture has doubled in volume and is light and foamy, about 3-5 minutes.  Carefully fold in the ground pecans, making sure to fully incorporate them into the egg mixture; stream in the butter and mix briefly.
Drop the batter by generous 1/2-cup measures onto a preheated waffle iron and cook according to directions.  Store any leftovers in the refrigerator and toast before serving.