These are an easy weeknight take on pizza when you've got no dough and no time to buy it or make it.  They're also excellent for gluten-free families, since you can use my GF crepe recipe for the base and take no more time nor effort to whip these up than wheat-eating people.  And since you can technically use any ingredients you like in your "pizzas," this is a simple, adaptable recipe that's good at any time of year.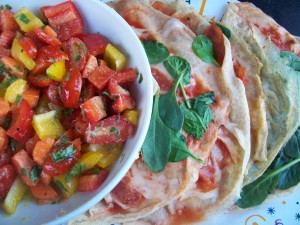 Pizza Crepes
1 recipe crepe batter — for traditional wheat flour-based crepes, I always use this Tyler Florence crepe recipe; you can also use my gluten-free crepe batter recipe.
3 tablespoons olive oil
1 1/2 cups marinara sauce
2 cups baby spinach leaves (or large leaves, stemmed and coarsely chopped)
2 cups shredded mozzarella cheese
1 cup coarsely chopped fresh basil leaves
To make the crepes, heat a 6-to-8-inch skillet over medium heat.  Brush with a little olive oil and add about 1/4 cup of batter, swirling the skillet around to coat it evenly.  Cook the crepe for 1-2 minutes, until set and dry around the edges; gently and carefully flip it (a rubber spatula is easiest for this).
Once you've flipped the crepe, it's time to stuff it.  Gently spread 2-3 tablespoons of marinara sauce over half of the crepe; top with about 1/4 cup of spinach leaves, sprinkle with 1/4 cup of cheese, and allow to cook until the cheese begins to melt, about 90 seconds.  Scatter a tablespoon or two of basil over the top, fold the crepe in half, and slide onto a plate.  Repeat with the remaining batter and toppings; serve with an extra drizzle of marinara over the crepes, if desired.