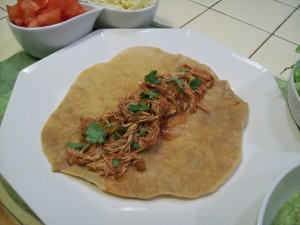 Slow Cooker Chicken Soft Tacos
2-3 lbs. bone-in chicken pieces (breasts, thighs, or drumsticks will work) ****UPDATE: You can also make this recipe with 3 lbs. of boneless, skinless chicken thighs!****
1 cup chopped onion
3 cloves garlic, minced
1 cup chopped red bell pepper
1 tsp. salt
1/4 tsp. crushed red pepper (or to taste — these aren't spicy)
1/2 tsp. black pepper
2 tablespoons ground cumin
1 1/2 tablespoons paprika
2 tsp. unsweetened cocoa powder
1 tsp. cinnamon
1 1/2 tsp. dried oregano
2 tablespoons red wine vinegar
28 oz. crushed tomatoes
1 1/2 cups chicken or vegetable stock
Place the chicken pieces in the bottom of the slow cooker.  Cover with the onions, garlic, and peppers. Mix together the spices (salt through oregano) and sprinkle evenly over the chicken and vegetables.  Mix the vinegar, tomatoes, and stock, and pour over the contents of the slow cooker.  Cover and cook on LOW 8-10 hours.  To serve, remove the chicken from the sauce.  Take the meat off the bones and shred.  Discard the bones.  Return the chicken to the sauce (or pour the desired amount of sauce over each portion of chicken; my kids don't like as much sauce as we do).  Use the chicken and sauce as the filling for flour tortillas; we top ours with avocado and a little sharp cheddar cheese, and serve alongside corn, beans, greens, and fruit.