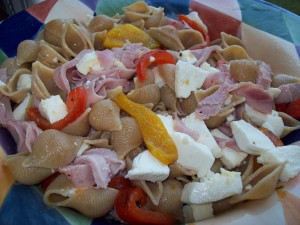 It doesn't get simpler than a fast pasta throw-together, especially if you're using mainly ingredients that require little to no cooking.  If you're pressed for time, this is something you may even be able to manage with things that are hanging around in your fridge and pantry — and as a bonus, it's perfectly great as lunch leftovers the next day.
Garlicky Whole-Wheat Pasta with Ham and Peppers

1 lb. seashell, cavatelli, or other short pasta, preferably whole-wheat (if you're a gluten-free family, try Jovial brown rice pasta instead)
3 tablespoons each butter and olive oil
6 cloves garlic, minced
8 oz. cooked uncured, nitrate-free ham, sliced thinly into ribbons (a high-quality deli ham like Applegate Organics works great here)
3 cups sliced roasted peppers
6 oz. fresh mozzarella cheese, cut into 1-inch cubes
1 tsp. salt
1/2 tsp. black pepper
Cook the pasta according to package directions.  While the pasta is cooking, melt the butter in a small saucepan and add the olive oil and garlic.  Cook over medium-low heat for 7-10 minutes, stirring occasionally, making sure the garlic doesn't brown.
Drain the cooked pasta, reserving about 1 cup of the cooking water.  Toss the pasta with the ham, peppers, and garlic butter mixture.  If it seems dry, add a little of the reserved pasta water.  Season with the salt and pepper and toss in the mozzarella cheese at the last minute before serving.