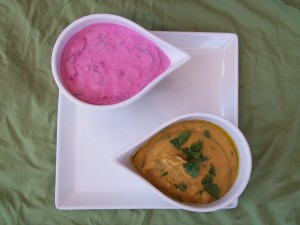 You could use regular lentils for this hummus (pictured at the bottom), but beware: The resulting color isn't pretty. TRUST ME. Besides, red lentils cook up more quickly and make a creamier dip with less effort.
1 1/2 cups red lentils, rinsed
1 tablespoon olive oil
1 small onion, diced
4 cloves garlic, minced
1 medium carrot, diced
1 stalk celery, diced
3 cups water
3/4 cup fresh parsley
1 tablespoon ground cumin
1 1/2 tablespoons ground coriander
1 tsp. salt
1/2 tsp. black pepper
1/4 tsp. crushed red pepper flakes
1/3 cup extra virgin olive oil
In a medium saucepan, saute the onions, garlic, carrot, and celery in the tablespoon of olive oil until soft (about 5 minutes). Add the lentils and 3 cups of water, stir, and cover.
Bring to a boil; reduce heat to a simmer and cook until the water is absorbed and the lentils are very tender, about 10-15 minutes.
Transfer the lentil mixture to a blender or food processor. Add the parsley, cumin, coriander, salt, pepper, red pepper flakes, and olive oil. Blend until smooth and creamy, adding slightly more olive oil if necessary. Allow the hummus to cool before serving.