When plain old bread gets boring, most of us turn to the safe lunchbox alternatives — whole wheat bagels, tortillas, pita.  Yes, they keep the sandwiches we're packing a bit more interesting for the kids, but I happen to think that we're ignoring a whole wide world of different and decidedly cool options for housing our fillings.
Among the unsung heroes of filling-holders is phyllo dough.  It's got a bad reputation for being hard to work with, but honestly, if you're not super concerned about the appearance of your finished product — and trust me, here, we're not — it's really not at all complicated.  Plus, it's easy to find at grocery stores, it's light and delicate, it's flaky and buttery and delicious, and it makes almost anything you put in the middle of it taste somehow far better than the sum of its parts.
This recipe is my newest take on the classic grilled cheese and tomato sandwich.  Tomatoes are a bit wet for the delicate phyllo dough, so I opted for roasted red peppers instead — but this is still just a simple classic at heart.  With only four ingredients, you can quickly make these up in the evening or on some weekend and refrigerate or freeze them until you need them.
Roasted Pepper Phyllo Bites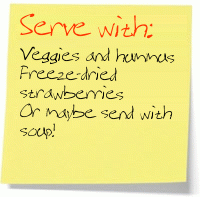 5 sheets frozen phyllo dough (preferably whole wheat), thawed to room temperature
6 tablespoons butter, melted
2 roasted red bell peppers, sliced into approximately 1 inch pieces
6 oz. fresh mozzarella cheese, thinly sliced
Preheat oven to 400 degrees.  Lightly brush an 8×8 inch square casserole dish with some of the melted butter.
Cut the phyllo sheets in half.  Layer one of the half-sheets into the casserole dish, folding it as needed to fit.  Brush with butter and layer a second half-sheet on top.  Brush with more butter and repeat until you have five layers of dough.
Cover the dough with the sliced mozzarella cheese, then top evenly with the sliced peppers.  Cover with another half-sheet of phyllo, brush that with butter, and repeat layering dough as before until all sheets have been used.  Brush the top with more butter and bake the casserole at 400 degrees for 25-30 minutes, until golden brown and crisp.
Allow to cool completely before cutting into 16 triangles.  The smaller you cut these, the easier they are to eat in the lunchbox.  I recommend using a serrated knife to cut the pieces.