I credit this dish with getting at least one of my children off of the "I hate macaroni and cheese" ride.  Technically, it would be both of them, but L. wasn't too happy with me for ruining his broccoli with cheese (who ARE these children???).  It's simple and can certainly be made ahead of time and then baked off on a busy weeknight.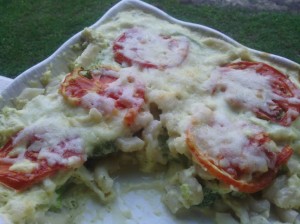 12 oz. elbow noodles, preferably whole-grain (we use brown rice pasta, but you can use whole-wheat or quinoa pasta if you'd prefer)
1 lb. broccoli, in medium-sized florets
4 tablespoons unsalted butter
4 tablespoons flour
2 tsp. dijon mustard
3 cups milk
1 cup half-and-half
1 tsp. salt
1/2 tsp. freshly ground black pepper
1/4 tsp. nutmeg
6 ounces whole-milk mozzarella, shredded
8 ounces sharp cheddar, shredded
2 large eggs, beaten
2 medium tomatoes, thinly sliced
Preheat the oven to 375 degrees.  Lightly butter a 9×13 baking dish.
Cook the pasta according to package directions, but shorten the cooking time by 2-3 minutes.  Add the broccoli to the cooking water about 3 minutes before you remove the pasta from the heat.  Drain thoroughly.
In a large pot over medium heat, melt the butter and add the flour, whisking to make a paste.  Cook, stirring, for 2-3 minutes.  Gradually whisk in the milk and half-and-half, making sure they incorporate smoothly and don't create lumps.  When all the liquid has been added, raise the heat to medium-high and cook, stirring occasionally, for 7-10 minutes or until the sauce is thick enough to coat the back of a spoon.  Turn off the heat and add the salt, pepper, nutmeg, and about 3/4 of the mozzarella and cheddar cheeses.  Stir until the cheeses are melted.  Taste and adjust seasoning as necessary.
Pour the sauce over the pasta and broccoli and mix well.  Gradually add the beaten eggs, stirring constantly to keep them from scrambling.  When the eggs are fully incorporated, pour the macaroni and cheese into the prepared baking dish.  Layer the sliced tomatoes over the top of the casserole and then sprinkle the remaining cheese evenly on top.
Bake the casserole at 375 degrees for 20-30 minutes, until lightly golden brown and bubbly.