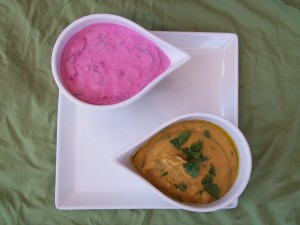 This cool and creamy dip (pictured at the top) is a snap to make and looks impressive on a party table! Make sure to wear an apron when you grate the beets – they splatter!
1 cup peeled grated beets (about 1 medium)
1 cup grated cucumber
1 1/2 cups plain whole-milk yogurt
3 cloves garlic, finely minced
1/4 cup finely chopped fresh parsley
2 tablespoons chopped fresh dill
Juice of 1/2 a lemon
1 1/2 tsp. salt
1/4 tsp. black pepper
1/4 tsp. ground coriander
Using a clean kitchen towel, squeeze all the water out of the grated cucumber. Combine all ingredients in a medium bowl and mix well. The tzatziki can be served immediately, but I recommend letting it sit for at least an hour to help the flavors marry.