Some kids like to dip their food.  It's no secret.  What's hard, I think, is coming up with dippable options that are not only new and exciting, but a little more substantial than the usual carrots-and-ranch kind of fare.
It seems to me that, given the proliferation of pizza Lunchables and knockoffs of that idea, kids like assembling their own food, and certainly they enjoy things that remind them of pizza.  This particular pizza dip, however, is probably for the more adventurous kids out there — and actually, it's sophisticated enough that you could not only pack it for those older kids who are starting to want a "cooler" lunch, but even serve it as a snack at your next casual adult party as well.  With some mini-pitas or small rounds of baked homemade pizza dough on the side, layered pizza dip can become a quick, fun, and filling lunch little gourmets will love.
Layered Pizza Dip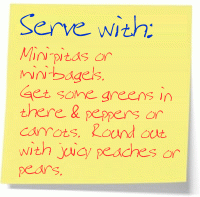 1 cup ricotta cheese
¼ cup julienned sundried tomatoes
1 tablespoon olive oil, or the oil in which the tomatoes were packed
½ tsp. dried oregano
6 teaspoons basil pesto
4 tablespoons sliced pitted black olives (if your kids aren't olive fans, you could also top this with some shredded nitrate-free pepperoni, some diced peppers, or whatever other pizza topping they may prefer)
Pulse the ricotta, sundried tomatoes, oil, and oregano in a food processor or blender until mainly smooth with a few small chunks of tomato remaining. Taste and add salt and pepper as necessary (this depends on the salt level of your cheese and pesto).
For each portion of dip, begin with ¼ cup of the cheese mixture.  Spread 1 ½ teaspoons of the pesto over the top of the cheese.  Top with 1 tablespoon of sliced olives or other topping choice.  Serve with breadsticks, baked pizza dough, or miniature whole-wheat pitas.