This light, healthy, but flavorful side dish is versatile and easy to make.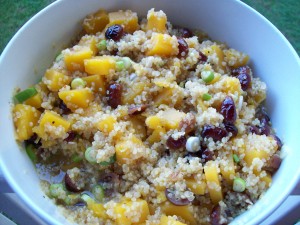 4 cups peeled, diced (1/2 inch) butternut or other hard winter squash
3 Tblsp. unsalted butter or olive oil
4 cloves garlic, finely minced
2 cups uncooked quinoa, rinsed and drained
3 ½ cups chicken or vegetable stock
1 ½ tsp. salt
½ tsp. black pepper
1 cup dried cranberries
½ cup diced scallions
Juice of 2 lemons
2 Tblsp. olive oil
Heat the 3 Tblsp. of butter or oil in a large skillet over medium heat. Add the squash and garlic, and cook for 3-5 minutes, until the garlic is fragrant and starting to soften.
Add the quinoa to the pan and stir well to thoroughly combine the ingredients. Pour in the
chicken stock and season with the salt and pepper. Cover, bring to a boil, and reduce to a
simmer. Cook for 15 minutes, until the liquid is almost all absorbed but the quinoa is not quite fully cooked. Add the cranberries, cover again, and continue simmering until the liquid is absorbed, the quinoa is fully cooked, and the cranberries are plump.
Remove from the heat and transfer to a serving bowl. Add the diced scallions, the lemon juice, and the 2 tblsp. of olive oil. Mix thoroughly. Serve warm or at room temperature.