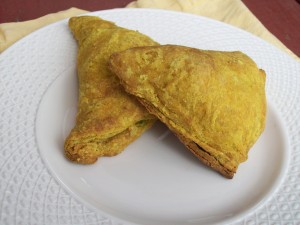 These savory potato and pea turnovers are a knockoff of one of my favorite appetizers to enjoy in Indian restaurants. Baking instead of frying makes for a much less messy – and possibly marginally less fatty – samosa experience.
For the dough:
2 cups flour (you can use all-purpose, white whole wheat, or spelt; I usually use the white whole wheat)
1 tsp. salt
1 tsp. turmeric
1/2 cup (1 stick) cold unsalted butter, diced, plus 2 additional tablespoons for brushing later
2/3 cup – 1 cup plain whole milk yogurt
For the filling:
2 cups peeled, diced waxy potato (1/2 inch dice)
2 tablespoons butter, ghee, or coconut oil
1/2 cup diced onion
2 cloves minced garlic
2 tsp. grated fresh ginger
2 tsp. garam masala (you can buy it or make it – my recipe follows)
1 tsp. turmeric
1 tsp. salt
3/4 cup frozen peas
Garam masala:
1⁄4 cup turmeric
2 Tblsp. cumin
1 Tblsp. ground ginger
1 Tblsp. ground coriander
2 tsp. ground cardamom
2 tsp. allspice
1 tsp. crushed red pepper flakes
1 tsp. paprika
1 tsp. nutmeg
1⁄2 tsp. cloves
Mix all ingredients together thoroughly and store in an airtight container until ready to use.
To make the samosas:
Preheat your oven to 400 degrees.
Place the potatoes in a medium saucepan, cover with cold water, and cover with a tight-fitting lid. Bring to a boil, then reduce to a simmer and allow the potatoes to cook for about 15 minutes, until fork-tender. Drain well.
In a large skillet over medium-high heat, melt the butter and add the onion, garlic, and ginger. Saute for 3-5 minutes, until softened. Add the garam masala, turmeric, and salt and cook for an additional 2 minutes, stirring, until very fragrant.
Add the potatoes to the pan and stir to combine thoroughly. Cook for about 5 minutes, stirring often, allowing the potatoes to break up and become partly mashed, partly chunky. Stir in the peas and remove from the heat.
In a large bowl, combine the flour, salt, and turmeric for the dough. Using a pastry blender or two knives, cut the 1/2 cup of butter into the dry ingredients until the mixture resembles coarse crumbs. Add 2/3 cup of yogurt and stir quickly until the mixture forms a rough dough (add a little more yogurt if it seems very dry).
Turn the dough out onto a lightly floured surface and knead quickly to make a smooth mass. Divide into 2 equal portions and set one aside. Roll the remaining portion of dough out into a square about 1/4 inch thick, roughly 6 inches on each side.
Cut the square into four equal squares. Place 2 tablespoons of the potato filling in the center of each, then fold the dough over itself to form a triangle. Pinch the edges well to seal. Repeat with the remaining dough and filling until you have 8 samosas.
Place the samosas on a baking sheet. Melt the additional 2 tablespoons of butter and use to brush the tops of the samosas. Bake at 400 degrees for 20-25 minutes, until golden brown and crisp at the edges.