It's the first day of July, and the house is too quiet.  The boys are off on a week-long trip to Gramma and Grampa's house while J. and I stay here in RI and slowly roast tardily install air conditioning units and dutifully go to work.  It's a weird week without them here, and also a week without a meal plan, because we revert to carefree status at times like this and do wild, impetuous things like eat out and pick from leftovers in the fridge.  Oh, we're mad, we two.
At any rate, it's July whether I was ready for it or not, and a meal plan must be written for the month ahead.  This summer, for the first time, we signed up for a CSA share from a local farm.  Our first basket came this weekend, and there are fourteen more of them on the horizon — fifteen chances, in all, to be creative with whatever comes our way.  To that end, I'm adding a "CSA night" to each week of our meal plan; I figure, why not leave some space for inspiration to come calling when I see how the baskets are shaping up?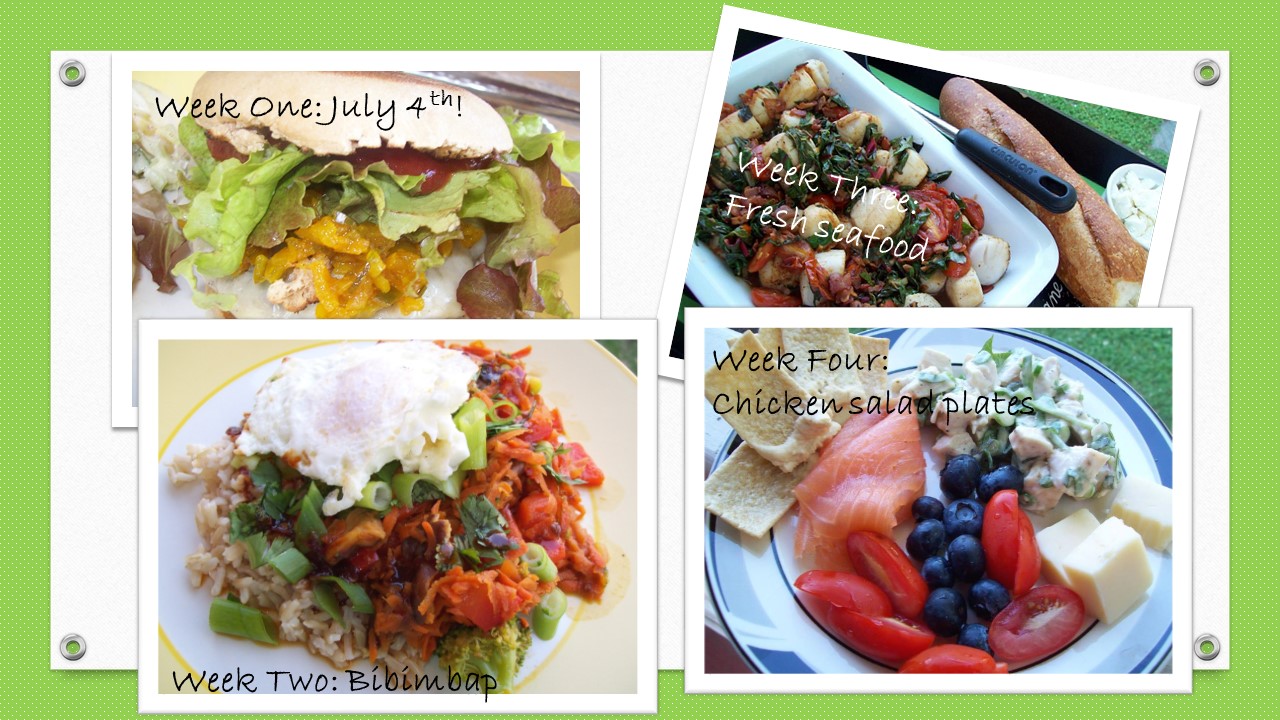 WEEK ONE:
July 1-5: I'm not planning anything.  We'll be here, we'll be there, we'll be celebrating the 4th, and it'll all work out.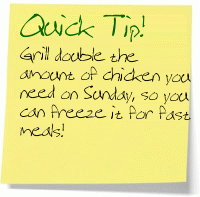 July 6: Restaurant style grilled chicken sandwiches, grilled vegetables
Make it GF: Serve the chicken and vegetables on top of salads
July 7: CSA night
WEEK TWO:
July 8: Middle Eastern lamb and eggs with pita triangles
Make it GF: Serve injera bread (made with teff flour) instead of pita, or serve over quinoa
July 9: DIY Salad night
July 10: Tortellini salad with chicken and basil
Make it GF: If you can't find gluten-free tortellini, you can use any gf pasta alternative
July 11: Kids cook/Fend night
July 12: Fresh seafood from the farmer's market
July 13: Slow-grilled pork shoulder with baked white beans

July 14: Bibimbap
WEEK THREE:
July 15: Fajitas and fruit
Make it GF: Use corn tortillas
July 16: CSA night
July 17: Turkey BLT sliders
Make it GF: Serve in lettuce wraps
July 18: Fend night/Kids cook
July 19: Fresh seafood from the farmer's market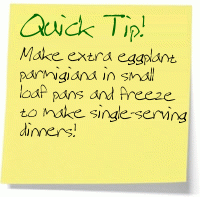 July 20: Eggplant parmigiana
Make it GF: Omit any breading, or substitute ground almonds for breadcrumbs
July 21: Hummus, tabbouleh, and pita
Make it GF: Serve baked vegetable chips with the hummus
WEEK FOUR:
July 22: Roasted garlic chicken pasta salad
Make it GF: Use any gluten-free pasta substitute you prefer
July 23: CSA night
July 24: Summer chili
July 25: Fend night/kids cook
July 26: Fresh seafood from the farmer's market
July 27: Chicken ratatouille bake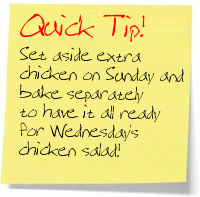 July 28: Risotte caprese
July 29: Meatball subs, fruit salad
Make it GF: Serve the meatballs without buns, over grilled zucchini or with roasted potatoes
WEEK FIVE:
July 30: Chicken salad platter
July 31: CSA night