And just like that, the only real month of summer is over.
As I turn the calendar page to August (what a romantic notion — what I mean is "click the next button on Google Calendar"), it's time for All The Things again. Back to school shopping. Back to school grocery shopping. And Back to School  freezer stocking.
Because I'm all about working smarter, not harder, in the kitchen, I developed a system a few years ago where I mark a little star next to good potential freezer meals when I make my monthly meal plans. On starred days, I cook a double or triple batch as long as I'm in the kitchen futzing with those  ingredients anyway, and then I pop the resulting extra meals into freezer-safe containers, label them, and stack them up in the chest freezer. I don't need TOO many freezer meals put by, but it definitely helps to relieve some stress to know that there are options ready to go. We rely on them for particularly busy periods, like when I have a concert week with my choral group and will be gone five nights out of seven, or when I've got to travel for work.
During the height of the spring and summer, I don't add to the freezer stash — frankly, from about April onward, we're just too busy, and usually we're well-stocked by that point so we're subtracting from the stash, not adding. And in July it's hot, we're enjoying the summer fun that presents itself to us, and the last thing on my mind is spending  extra time in the kitchen. But now, with fewer than 30 days until the school year comes roaring in with all its new routines and calendar obligations (made more complicated this year by the fact that for the first time in forever, the boys will be at two different schools, so no doubling up on all the events), it's Go Time again.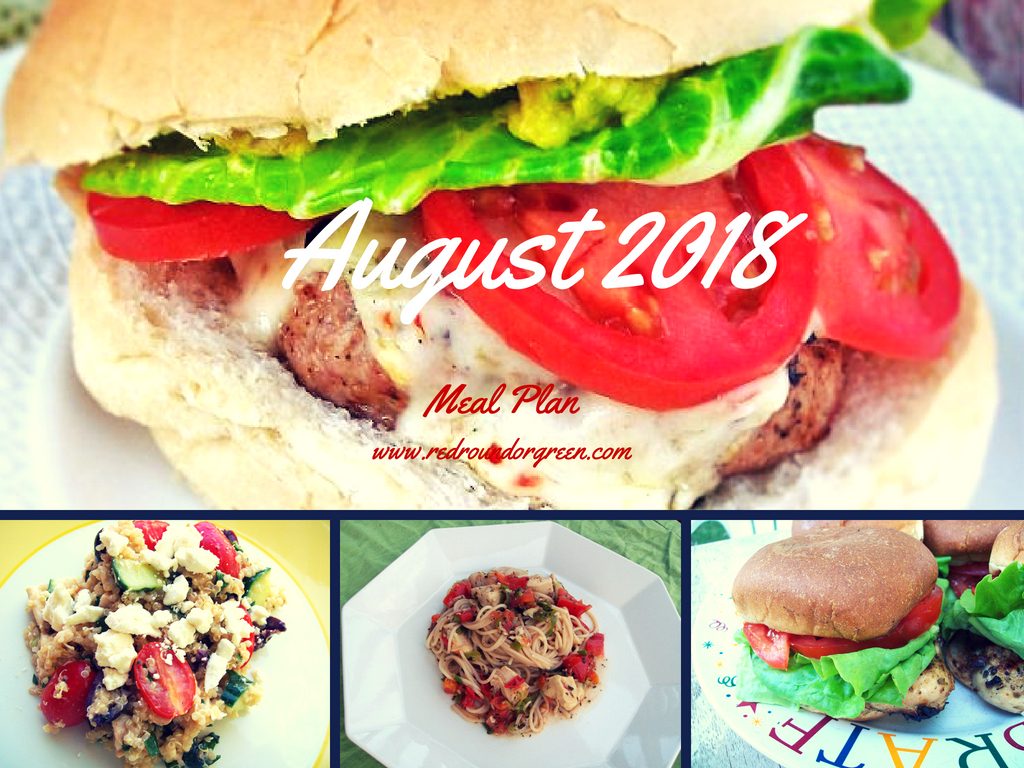 WEEK ONE:
Wednesday, 8/1: Spaghetti with fresh tomato sauce and basil
Thursday, 8/2: Bacon and egg fried rice
Friday, 8/3: L.'s birthday party with friends, so we'll be out to dinner
Saturday, 8/4: Continuing L's birthday festivities, this time at Tanglewood
Sunday, 8/5: Sunday Roast Chicken dinner
Monday, 8/6: Greek Chicken and Quinoa Salad
Tuesday, 8/7: L. and J.'s actual birthday. The kids also happen to have a crazy schedule of activities this evening, so we're opting for a late-night pizza delivery after everything's done
WEEK TWO:
Wednesday, 8/8: Chicken fajitas on homemade sourdough tortillas
Thursday, 8/9: Lamb-stuffed grilled pitas and salads
Friday, 8/10: Headed to a free concert with friends and we'll hit up the food trucks there. (I guess summer fun isn't quite over yet….)
Saturday, 8/11: Having a belated birthday party for J. I can't post the menu as it's a surprise for the birthday boy, but we'll make something nice!
Sunday, 8/12: Fresh seafood from the farmer's market
Monday, 8/13: Tomato-basil risotto and salad
Tuesday, 8/14: Breakfast burritos, avocado, beans and fruit*
*Double batch of the beans and a triple of the burritos will go in the freezer
WEEK THREE:
Wednesday, 8/15: "Frog slime" meatballs, buttered noodles and vegetables*
*Double batch of the meatballs will go in the freezer
Thursday, 8/16: Grilled chicken sandwiches and sweet potato fries
Friday, 8/17: L. will be in a theatre camp performance tonight, so I'm not planning anything at the moment as I'm not sure of the details for the evening
Saturday, 8/18: Fresh seafood
Sunday, 8/19: Baked gnocchi with greens and cheese
Monday, 8/20: Assorted mezze and homemade sourdough pita
Tuesday, 8/21: Turkey tacos
WEEK FOUR:
Wednesday, 8/22: Pasta poulet and salad
Thursday, 8/23: Simplest stuffed peppers and bread*
*Double batch of the stuffed peppers will go in the freezer
Friday, 8/24: Breakfast for dinner
Saturday, 8/25: We may be at a party for friends tonight; not planning until I'm sure
Sunday, 8/26: Slow cooker turkey breast with gravy on toast, salads*
*Double batch of turkey and gravy will go in the freezer
Monday, 8/27: Ditalini with mini meatballs*
*Double batch of meatballs will go in the freezer
Tuesday, 8/28: Last night of the summer! I'm planning a crowd favorite that also makes for great lunchboxes: P.s favorite chicken quesadillas on sourdough tortillas, with rice and beans
WEEK FIVE:
Wednesday, 8/29: First day of school! I always want them to come home from the first  few days to familiar comfort foods. Tonight will be breaded chicken cutlets, buttered noodles and salad.
Thursday, 8/30: Homemade pizzas
Friday, 8/31: Burger night! The boys will pick the toppings.