Some people reading this – like my sister, D. – will read that title with a snort and a knowing smirk.  They will say that I am exactly the WRONG person to write a blog post about organizing anything, especially since I am legendary for not ever sending a single greeting card on time and have a "junk drawer" that appears to have spawned and become four or five junk drawers.  I understand the skepticism, but I actually think the fact that I am not a naturally fabulously organized person (yes, despite the meal planning!  Really!) makes me uniquely qualified to discuss the issue of how in the world to get everything done in the holiday season.  Because, really, people…every year, things get done despite my lack of Martha-Stewart-ness, and in the past few years I've even managed to do EXTRA things without stressing myself out.  To me, this means I must have hit upon a few strategies that are actually simple enough for ANYONE to do.
The entire secret, by the way – not to give up the game too early – is to START NOW.  That's right, NOW.  Actually, start BEFORE now.  You have to begin your holiday preparations well in advance of the panic date if you're going to keep things flowing and relatively calm.  Better yet, I want you to be able to keep things ENJOYABLE for you and your family.  So, no kidding, if you haven't already started…start today.
Where to start? With the plan, of course.  I work with a meal plan every day of my life; holiday plans are no different, as far as I'm concerned.  They just contain more elements.  Get down on paper when you anticipate doing each item on the holiday checklist and then evaluate whether or not you're being realistic.  I recommend organizing in this way:
1. Merriment.
It may seem like "merriment" is the LAST thing you'd worry about, but I am not into sucking all the joy out of the holiday season with stress, tasks, to-dos, and commercialism.  Think carefully about what things you want and/or need to do – for yourself, with your friends, with your family – that will make the holiday season fun and special.  Then put them on the calendar and assure yourself you will, in fact, do them.  Whether it's the tree-lighting at the local park, a neighborhood caroling party, volunteering at the Soup Kitchen, or just making hot cocoa and playing in the snow, these things are at the heart of the holidays and must not be forgotten.  Schedule them.
2. Cards.
If you still do traditional holiday cards – and I think most of us do, if only to appease our older relatives – then this is likely one of those tasks that ends up getting put off until later than you'd like each year.  I'm so terrible about cards that I had to make them one of the first things I resolve, so I could stop worrying about when I could get around to it.  I HIGHLY recommend using a service like Hallmark.com or Shutterfly that allows you to create your perfect card online, order it, load a mailing list, and schedule when you want the cards sent.  Voila – perfect, beautiful holiday cards, sent to everyone on your list in a timely fashion, and they don't even have to physically touch your hands if you don't want them to!  Mine are going out December 3.  DONE.
3. Shopping.
Figure out where and how you can keep a list going, and do it.  I just use my Amazon wishlist, though I know there are neat apps and things that more tech-savvy people like to use.  Starting in September or so, I spend a few minutes here and there browsing the internet for things my kids, J., and I might like.  With the wishlist browser button, I can add things from any site (and Amazon will tell me if they already have the same item at a lower price – score!), and that way I always have a list handy if someone asks "What do you want?  What does J. want?  What can I get the kids?"  Then, when it's getting towards Thanksgiving time, I start prioritizing things and doing a little math.  Once I have lists for everything – including stockings – that come in under my target budget, I can start looking for additional deals to cut the costs even more, and purchase things that are high-priority items right away so they don't go out of stock.  If you're spending the holidays away from home, do most of your shopping online and have the items shipped directly to your destination, if possible – that way you don't have to worry about leaving anything behind.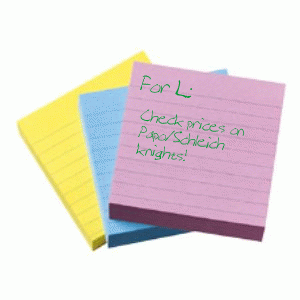 4. Wrapping.  Another thing that can get pushed off to the last minute and end up being way more stressful than it should.  Some people I know operate on the "Buy it, Wrap it" principle – so each time they purchase a gift, they wrap it right away, rather than confront a huge mound of wrapping later on.  For me, that' s not practical, since I generally spend the holidays at my folks' house and have all of the presents shipped there in advance.  J. and I have developed a system that makes it almost pleasant: On Christmas Eve, after the kids are in bed, we either hang out by the tree or in front of a good Christmas movie and wrap stuff.  There are cookies, eggnog, pjs, and coziness.  I'm always in a good mood.  And making it part of the whole ritual somehow takes the "chore" angle right out of it.
5. Baking.
I do lots of holiday baking, and I'm guessing most of you do, too.  This MUST be scheduled in order to get done without stress and resentment.  The freezer is your best friend.  In order to figure out how much time you need, I recommend that you mentally allocate an hour for each variety of cookie you plan to bake; 2 hours for cakes, cupcakes, and quickbreads; and 3-4 hours for yeast breads and complicated items.  YOU WILL NOT REALLY NEED ALL THAT TIME, which is the beauty of scheduling things this way.  Once you've figured out how many theoretical hours you need, look at your calendar and set that time aside.  I start baking for Christmas right after Thanksgiving, which gives me plenty of time to do it all without being rushed.
(If you're drooling over those cookies, you should definitely try to bake them.  Two-Toned Cookies are perfect for any occasion.)
Start with your must-have items (in case of a later emergency that prevents you from finishing the baking; if Aunt Ruth's cinnamon crinkles are the cornerstone of your Christmas traditions, make sure they're done first!).  I also like to make some quicker, easier, gift-worthy items early on in the process, because I know there will be plenty of moments throughout the coming weeks when I will want a simple homemade gift to share with someone or to bring to an event.  A freezer full of festive bar cookies, candied nuts, and other simple treats takes the pressure off a bit.
One thing you may want to consider, if you really worry about getting it all done, is making up the dough for each of your cookies but not baking them (in that case, you can get 2 varieties of cookies mixed in your hour of allotted time!).  Most cookie dough survives freezing with no ill effects and can even be baked straight out of the freezer.  Shape the individual cookies or roll the dough into logs for slicing later, freeze, and then rest easy knowing that all you have to do is whip out the ones you want and bake them up for the holidays.
6. Holiday Cooking.
Whether it's the office potluck, a weeklong flurry of guests, a Christmas Eve Open House buffet, or the main holiday meal itself, chances are you'll need to do some serious cooking at some point during this season.  Again, I say unto you: Verily, thy freezer is thy friend.  There are LOADS of things you can make in advance and freeze.  My mother makes her Thanksgiving squash, turnips, and cranberry sauce in advance and freezes it; for Christmastime, she makes up the Swedish meatballs, several of our Christmas Day appetizers, and the meat mixture for our Swedish sausage and freezes those as well.  Figure out what you can freeze and do it in small quantities ahead of time – a side dish for the freezer while you're already making Sunday dinner for your family, a casserole on Friday night after you've given yourself a little break with some take-out.
(The Butternut Squash and Pear Soup recipe is a crowd-pleaser I'd recommend for almost any occasion, by the way.)
7. Everyday Cooking.
The one problem with keeping things running smoothly throughout the holiday season is that, while you've got all these OTHER things to do, real life continues.  I begin preparing for this in early November, by stocking up on easy-to-cook meats and other items, popping extra servings of marinara sauce and soup into the freezer, and taking an extra minute or two here and there to chop, marinate, prep, and portion a few servings of various foods that can be saved for December's hectic days.  The end of November, post-Thanksgiving, is also an excellent time to remind yourself to bulk-buy easy, healthy snack items and batch-cook waffles, pancakes, muffins, chicken fingers, and anything else that you might want to quickly grab and throw into lunchboxes in the morning.
(Get more inspiration for super-easy Weeknight Meals that you can throw together in less than half an hour.)
8. Decorating.
I put this last on the list because, frankly, it's fun, fabulous, and totally unimportant to the success of your holiday.  Seriously – given the choice between cookies and presents, or decorations, which would your family choose?  (If they'd pick decorations, move it up higher on the list.  But I think very few of you will do this.)  Look at all the time you've penciled in to do the other tasks here – then work in time for the beautification efforts.  Keeping things simple really helps, by the way: Vases full of old ornaments, some festive table runners, and a couple of well-placed wreaths is really all you need to have things cozy in no time.  Add a nicely decorated tree (which falls under the "merriment" category as far as I'm concerned) and hang some stockings, and you're good to go.
At this point in the season, I'm almost done shopping; the merriments are scheduled and underway; and we're ready to move on to baking, decorating, and enjoying one another's company as the holidays draw closer.  Later this week I'll share our December meal plan, plus a twist that will help us keep the holiday budget in check.  In the meantime, leave a comment to share your favorite way to manage all the tasks of the holiday season!