I have to laugh at myself a little bit tonight.
Here I sit, writing a "Lunch Logic" post that supposes you'll have plentiful leftovers from which to manufacture lunches, and I'm currently in possession of a nearly barren refrigerator.  Oh, there are SOME things in there, and we'll be fine; but the irony hasn't escaped me that at least in my house, this week's meal plan has somehow failed to provide exactly the quantity and quality of odds and ends I'd originally hoped for.  It may have something to do with the fact that both children appear to have hollowed out their legs recently (more likely, the fresh Spring air and outdoor playtime, but tomato, tomahto).  L. has eaten nearly a full third more food each day this week than he usually would; P.'s holding steady at his usual intake, which is roughly at the level of an entire third-world village; and even J. seems to be extra-hungry these days.  So, home cooking or no home cooking, there's not a whole lot left to work with around here.
Still, we can manage just fine, and so can you — Lunch Logic this week may require a bit of extra kitchen time, but not much, and the results will be worth it.  The waffled panini alone are the type of thing you'll want to make over and over again, for lunches and dinners, and they don't take much more time than any other kind of sandwich.  A little imagination and a few minutes of easy prep will keep things running smoothly in the lunch-packing department all week long, and help you make the most of every last bit of your dinner leftovers.
Meal Plan Refresher (or check out the full April 2013 Meal Plan):
Saturday, 4/20: Chicken piccata with artichokes and spinach
Sunday, 4/21: Porchetta, potatoes and vegetables
Monday, 4/22: Pasta with ham and roasted peppers
Make it GF: Use brown rice, kamut, or quinoa pasta – we prefer Jovial and Tinkyada brands
Tuesday, 4/23: Slow cooker – "Midwest" chicken and lentil soup, cornbread
Wednesday, 4/24: Weekend Warmup – Sourdough English Muffin pizzas, salad
Make it GF: If you don't like any gluten-free pizza dough recipes or alternatives (I don't blame you if you don't), then I'd recommend doing "pizza burgers" – always a hit in our house.  We simply melt the sauce and cheese over beef or turkey burger patties in a skillet and serve those instead of pizza.
Thursday, 4/25: Mom's fish dish, rice, asparagus
Friday, 4/26: Fend night

The Lunch Logic: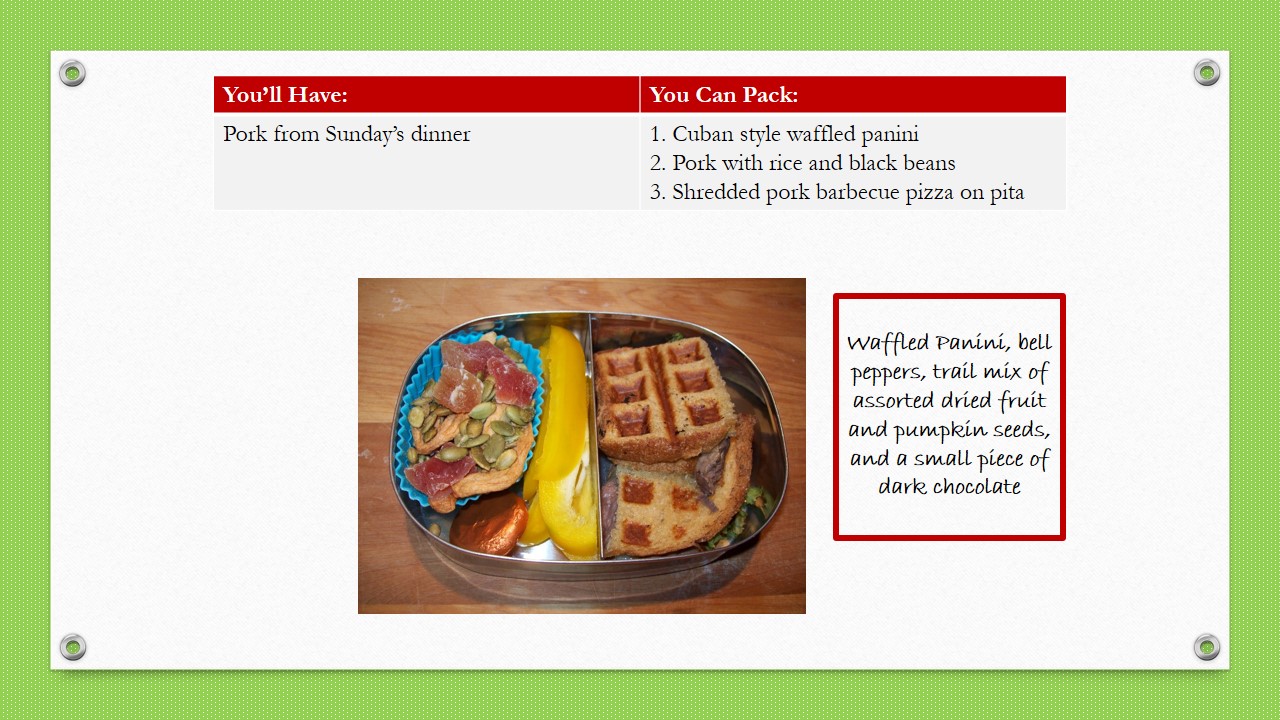 Essential Links: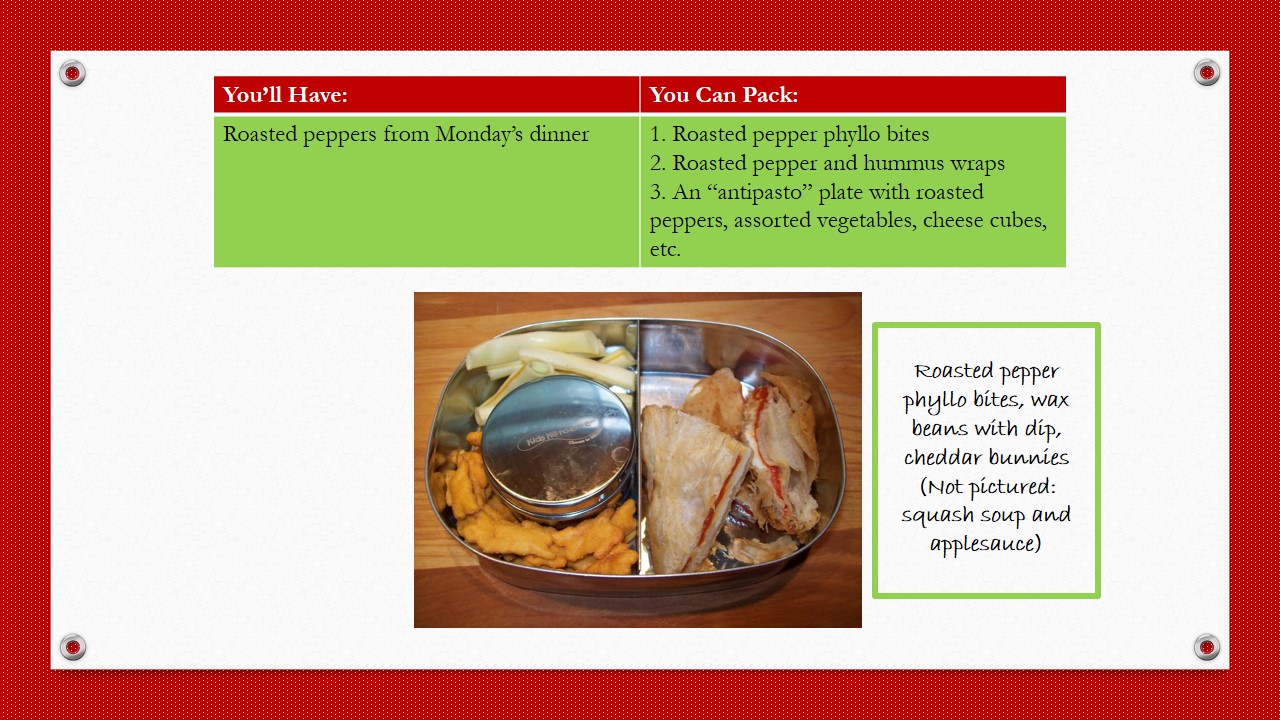 Essential Links: