I find it positively unimaginable that it's already August.  You know what happens in August?  Summer simultaneously heats up (though I grant you that's practically impossible this year) and begins wending its way towards the inevitable close.  Both J. and L. get another year older.  This August, L. turns SEVEN.  SEVEN YEARS OLD.  And by the end of it, he'll be heading out the door to first grade.
Of course, market produce is never quite so good as it is right at this moment, this late-summer harvest riot when all the things I miss terribly during the rest of the year are tempting me to spend an entire week's worth of camp tuition money on vegetables at the farmer's market.  And as terrifying/awe-inspiring as it is to have my oldest child reach the "age of reason," there's good in that, too.  As there is in the end of summer and the beginning of my favorite season, a New England fall.  And as there is in pretty much all things that come at their appointed hours.  So I'm not going to sweat this August thing — I'm going to embrace it, love it, squeeze it, and make the most of it.  I hope you will, too.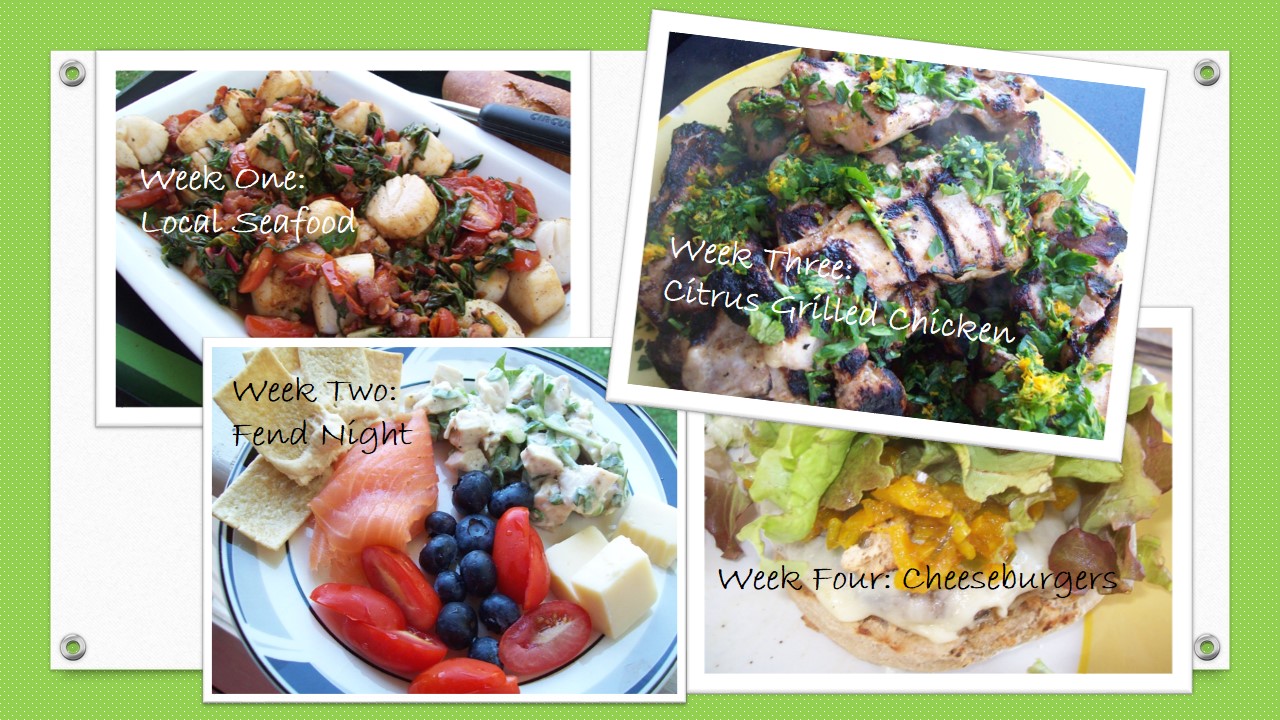 WEEK ONE:
Thursday, 8/1: Lamb burgers, chopped salad, brined potatoes
Make it GF: Serve the burgers off the buns
Friday, 8/2: Fend night
Saturday, 8/3: Seafood
Sunday, 8/4: L.'s birthday party!  Honestly, I am positive I will have no desire to cook after we send the last guest home.  So we'll probably snack on leftovers or…something.
Monday, 8/5: Vegetable quesadillas, guacamole, refried beans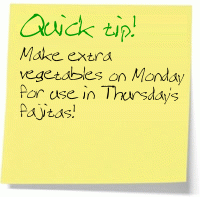 Make it GF: Use corn tortillas
Tuesday, 8/6: Chicken pasta salad with lemon aioli
Make it GF: use brown rice, quinoa, or other gluten-free pasta (we like Jovial and Tinkyada brands)
Wednesday, 8/7: L. and J.'s birthday!  They're deciding what they'd like to do about dinner on this night.  It's their choice!
WEEK TWO:
Thursday, 8/8: Steak fajita salad
Friday, 8/9: Fend night
Saturday, 8/10: Seafood
Sunday, 8/11: Chicken under a brick, grilled vegetables, potato salad
Monday, 8/12: Roasted vegetable stuffed shells, salad
Make it GF: Make eggplant rollantini instead of shells!  Just put the vegetable and cheese mixture inside slices of grilled or roasted eggplant and bake.
Tuesday, 8/13: Chicken satay and peanut noodles
Wednesday, 8/14: Turkey tacos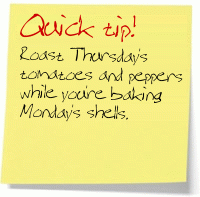 WEEK THREE:
Thursday, 8/15: Roasted tomato and pepper soup with almonds and mint, sliced meats and cheeses
Friday, 8/16: Fend night
Saturday, 8/17: Seafood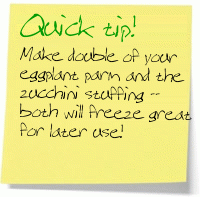 Sunday, 8/18: Eggplant parmigiana, salad
Make it GF: use a 50-50 mixture of ground pure oats and puffed brown rice for the coating on the eggplant, or omit it entirely
Monday, 8/19: Tomato-basil risotto
Tuesday, 8/20: Stuffed zucchini, fruit
Wednesday, 8/21: Grilled kielbasa (from a local farmer), sweet potato fries, salad
Make it GF: Serve the kielbasa without buns
WEEK FOUR:

Thursday, 8/22: Bruschetta chicken, pesto pasta
Make it GF: Use brown rice or quinoa pasta, or make pesto-tossed potatoes instead
Friday, 8/23: Fend night
Saturday, 8/24: Seafood
Sunday, 8/25: Sunday roast chicken, vegetables, quinoa
Monday, 8/26: Pasta puttanesca, salad
Make it GF: Use brown rice or quinoa pasta
Tuesday, 8/27: Chicken, broccoli, and potato salad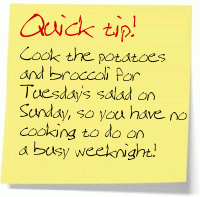 Wednesday, 8/28: Cheeseburgers, cucumber salad, fruit
WEEK FIVE:

Thursday, 8/29: DIY Salad night
Friday, 8/30: Fend night
Saturday, 8/31: Seafood