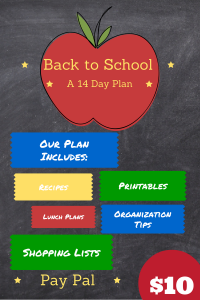 I'm so excited today to announce the launch of a new project that I've been practically SLAVING over (yes, picture me, back of hand to my forehead) with my friend Bonnie from The Joyful Organizer.  The two of us have been working on a fabulous new downloadable e-guide to help our readers get ready for back-to-school time, and it's finally here!
"Back to School the Organized Way" is your ultimate guidebook for this time of year.  Bonnie offers simple and effective tips for setting up homework spaces, getting the kids' closets in shape for the school year, and more — including some great printables to keep you super organized on even the most chaotic days!  As for me, well, I've put together a plan for you that offers the following:
A two-week, day-by-day guide to readying your kitchen for back-to-school time
Step-by-step plans to help you get 14 family dinners, 60 school lunches, and more into your freezer in just about an hour a day
Brand-new recipes and some tried-and-true favorites
Twelve weeks of full school lunch menus to make packing easy
And every recipe and lunchbox idea comes with adaptations for both vegetarian and gluten-free families, so you can be sure that all the meals in the guide will meet your family's needs!
From getting your kids involved in staying organized throughout the year, to easy and adaptable recipes that will help you get everyone to the dinner table on even the busiest weeknight, Bonnie and I have got you covered.  With over 100 pages of original content, color photos, and simple instructions for each day, "Back to School the Organized Way" is a practically perfect prep plan…for practically imperfect people, like all of us!
Get the guide now!