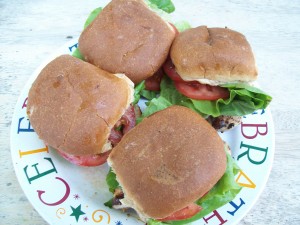 When I was a kid, I remember eating these chicken sandwiches at some restaurant — I don't know for sure where it was, but I think it was probably the country club where my parents played golf.  (Yeah, I'm a former country-club kid.  No, I've never worn a sweater tied around my neck non-ironically.) I remember this sandwich being THE chicken sandwich for me.  It was grilled, not fried; juicy and tender; nicely seasoned, but not overly so; and very simple.  Just the chicken, the bun, and some crunchy lettuce and perfect slices of sweet tomato.  Nowadays, I feel like every grilled chicken sandwich is trying to one-up itself, adding bacon and cheese and fancy sauces; but the chicken sandwich of my youth, well, that's the one I'll forever remember.  It didn't need anything fancy added to it.  It just WAS.
Recently, some old friends of mine visited us from quite a ways out of town.  We hadn't seen them in years, and I'd never eaten a meal with their kids, so I had no idea how anyone's palates might be.  We'd invited them to join us for an outing at the local zoo, then back to our place for a casual backyard dinner, but I got hung up on what to serve.  What if their kids didn't like some of the foods our kids and our friends' kids are used to?  What if I chose the wrong thing?
Of course, the answer was to step back, take a deep breath, and remind myself that when in doubt, simple is always better — especially when you're feeding a bunch of hungry people after a long afternoon in the hot sun.
I had burgers and chicken breasts in the freezer, so I decided we'd just throw everything on the grill, set out some buns and toppings, and make a salad and a fruit tray to go alongside.  But when it came to the chicken, the image of those old, nostalgic sandwiches kept haunting me.  I had to try to make those sandwiches myself.
In the end, it turned out that the mystery of the chicken sandwiches was nothing more complicated than Italian dressing.  I whisked together a pretty good imitation of the ubiquitous "zesty Italian" you find in supermarkets everywhere, coated the chicken, and let it marinate for a few hours.  When it came off the grill, to my everlasting surprise, it was the chicken I'd remembered — moist, nicely seasoned, flavorful but not overpowering.  And on a big fluffy bun with some crisp romaine and heirloom tomatoes, it was the grilled chicken sandwich of my childhood all over again.
I have to confess, I've made these sandwiches twice more since we discovered them, and each time they disappear almost as fast as they hit the table.  In the midst of a busy summer season, this is one of my new food obsessions.  Fast, simple, satisfying, and a hit with family and friends alike; what could be better?
Get the recipe: Easy Grilled Chicken Sandwiches