So, uh, it's not quite the last day of the month yet, but there's this thing called "Juno" apparently headed this way? And we might get crushed under the weight of one billion pounds of snow?
OK, it probably won't be THAT bad, but still, it does look like there is going to be quite a lot of weather bearing down on us here in the Providence, RI area this week. Schools are already cancelled for tomorrow, with principals cautioning parents that we ought to mentally prepare for a Wednesday cancellation as well. People are scrambling to stores for bread and milk and batteries and flashlights. My boys are planning to construct a 4-piece snowman rock band and head to the city park with their sleds (as soon as it's safe to go outdoors, obviously). And I'm pretty sure we'll lose power for at least a little while, so I'm thinking I may bake up a loaf or two of bread today juuuuuust in case.
All this by way of saying: It's early for me to post the February meal plan, but I may as well get it up now, because who knows what the rest of this week will look like?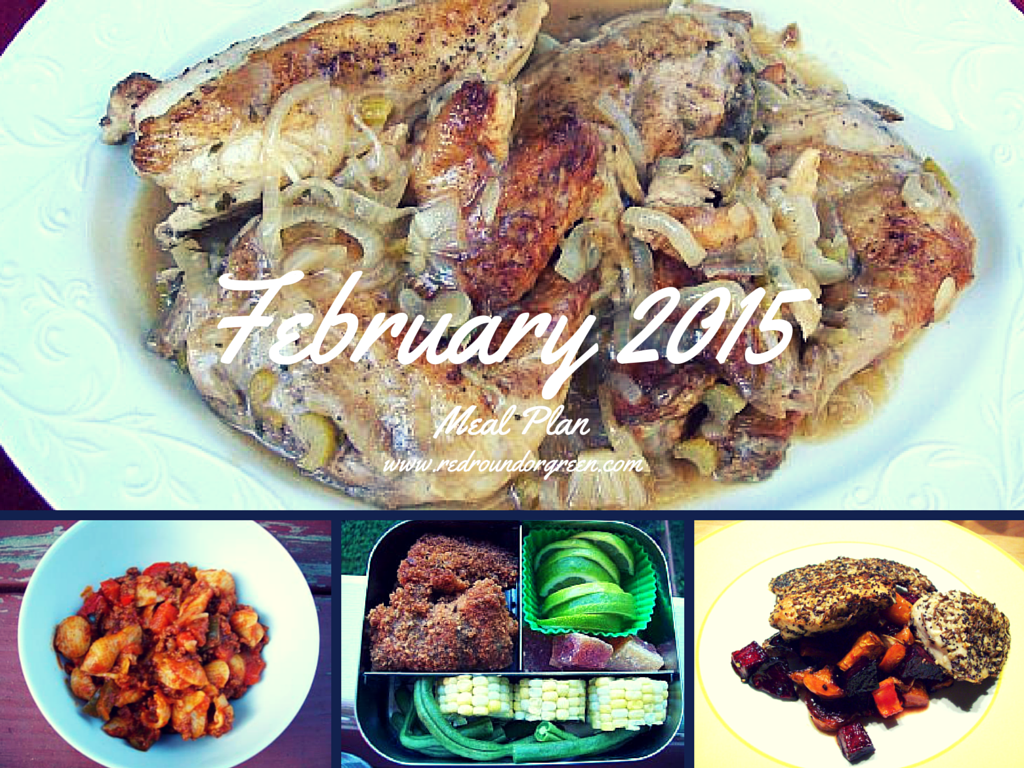 WEEK ONE:
Sunday, 2/1: Super Bowl! I'm not sure yet exactly what we'll be doing, but homemade "junk food" is a good bet. 🙂
Monday, 2/2: Pasta with creamy mushroom sauce, salad
Make it GF: Use your favorite gluten-free pasta
Tuesday, 2/3: Slow cooker – California Chuck Roast
Wednesday, 2/4: Everything-crusted chicken and roasted vegetables
Thursday, 2/5: Greek-style lamb pita pizzas
Friday, 2/6: Fend night/Kids Cook
Saturday, 2/7: Spaghetti and meatballs
Make it GF: Use gluten-free pasta or serve the meatballs plain, alongside roasted vegetables or on a bed of polenta
WEEK TWO:
Sunday, 2/8: Smothered chicken with apple cider gravy, mashed potatoes, broccoli
Make it GF: You can omit the flour in the gravy, or use rice flour
Monday, 2/9: Meatball subs
Make it GF: Instead of subs, make a meatball parimigiana stuffed baked potato
Tuesday, 2/10: French onion soup and salad
Make it GF: Omit using bread to top the soup
Wednesday, 2/11: Breakfast for dinner
Thursday, 2/12: Balsamic brown butter chicken and broccoli rabe
Friday, 2/13: Fend night/Kids cook
Saturday, 2/14: Friends over for dinner! Still working out what we'll serve.
WEEK THREE:
Sunday, 2/15: Steak and Guinness pie
Make it GF: Use mashed potatoes for the crust instead of pastry
Monday, 2/16: Sheet pan nachos
Tuesday, 2/17: Slow cooker – apple barbecue pulled pork sandwiches
Make it GF: Serve on cornbread made with masa (not flour) instead of traditional rolls
Wednesday, 2/18: Lemon chicken pasta
Make it GF: Use your favorite gluten-free pasta
Thursday, 2/19: Eggs poached in tomato sauce, sourdough bread
Make it GF: Omit the bread and use squares of fried polenta for dipping
Friday, 2/20: Fend night/Kids Cook
Saturday, 2/21: Homemade chicken nuggets and mixed vegetables
WEEK FOUR:
Sunday, 2/22: Ham and scalloped potatoes
Monday, 2/23: Chicken nugget parmigiana, salad
Tuesday, 2/24: Slow cooker – sloppy joes, sweet potato fries
Make it GF: Use the sloppy joe filling to make corn tortilla quesadillas, or to top baked sweet potatoes
Wednesday, 2/25: Layered deep dish pizza
Make it GF: Use polenta for the crust
Thursday, 2/26: Chicken noodle lettuce wraps
Friday, 2/27: Fend night/Kids Cook
Saturday, 2/28: Mom's Old School goulash and salad
Make it GF: Use your favorite gluten-free pasta