I've realized something over the past several years of parenting school-aged kids: July is really the only true month of summer.
June doesn't count, because they're still in school for at least half of it. And August doesn't count, because I spend most of the month thinking about, planning for, shopping for and getting organized for Back-to-School time. Nope…if we're talking about full-on, relaxed, in-the-moment (as much as I ever manage to be) summertime, July is all we've got.
That means a month of trying to take advantage of as many opportunities as possible to have some fun together, a month of balancing camps the kids want to attend with lots of downtime at home, a month of leaving the meal plan and really, all plans, just a little bit looser than usual because sometimes things come up and you want to be able to chuck everything and go with the flow. In July, I'm not worried about stocking the freezer or trying to stay one step ahead of myself; instead, I'm trying to step back and get off the giant hamster wheel for a little while.
So here's our imperfect, wildly changeable meal plan for this single month of summer. Imagine that most of it will happen outside, if it happens at all.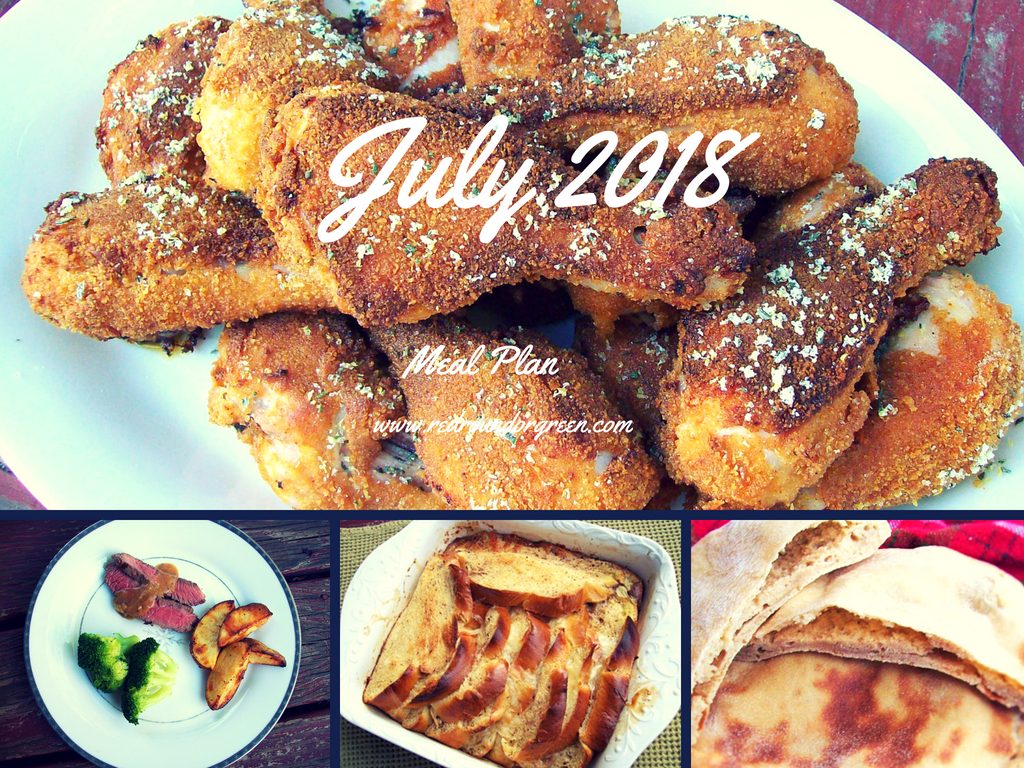 WEEK ONE
Sunday, 7/1: Linguine with clams and squid, salad and baguette
Monday, 7/2: Lamb meatballs, homemade pita with tzatziki, cucumber and tomato salad
Tuesday, 7/3: Oven fried chicken, veggies and biscuits
Wednesday, 7/4: Hot dogs, from-scratch baked beans and fruit between a (hopeful) day at the beach and evening fireworks!
Thursday, 7/5: Chicken quesadillas on homemade sourdough tortillas
Friday, 7/6: Vegetable pad thai
Saturday, 7/7: Our nephew's graduation party — no cooking tonight!
WEEK TWO
Sunday, 7/8: Slow cooker ribs, potato salad, baked beans (I'll have some in the freezer from last week's batch) and vegetables before we send L. off to his week-long orchestra camp
*NOTE: The rest of this week — Monday through Friday — will be planned and cooked by 9-year-old P., with my supervision. While his brother is away he enjoys taking the lead on dinner!*
Monday, 7/9: Chef P.'s Meatball Subs, veggies and fruit salad
Tuesday, 7/10: Chef P.'s breakfast for dinner night — bacon, eggs and French toast with fruit
Wednesday, 7/11: Chef P.'s Flank Steak with as-yet-to-be-determined sides
Thursday, 7/12: Chef P.'s grilled chicken with a kale salad from his own garden
Friday, 7/13: Chef P.'s homemade pizza
Saturday, 7/14: Orchestra camp concert — we usually go out for an early dinner after the performance
WEEK THREE
Sunday, 7/15: My choral group is hosting a fundraising picnic at the polo matches in Newport. If we make it down there, we'll tote a picnic basket — not sure what will go in it yet!
Monday, 7/16: Turkey club patties, salad and crispy potatoes
Tuesday, 7/17: Cheesy pork tacos with chimichurri sauce, avocado and tomato salad
Wednesday, 7/18: Spaghetti with fresh tomato sauce
Thursday, 7/19: Grilled veggie pizzas
Friday, 7/20: Buffalo inspired lettuce wraps with sweet potato fries
Saturday, 7/21 – Wednesday, 7/25: Family vacation!
WEEK FOUR
Thursday, 7/26: Closing ceremonies at P.'s sailing school, so we'll probably be grabbing dinner there
Friday, 7/27: Caesar salads with grilled chicken and shrimp
Saturday, 7/28: J. and P. will be off on a special outing together, so I'll defer to L. for dinner plans
WEEK FIVE
Sunday, 7/29: Grilled chicken drumsticks and cold salads
Monday, 7/30: Beet and corn panzanella and fruit
Tuesday, 7/31: Baked chicken taquitos, rice and beans