I know so many people out there are already doing the back-to-school thing as we speak, but in New England, summer still has a few weeks to go. Our kids aren't going back until after Labor Day this year, which means another full month of planning and organizing time (also known as WISHING I were planning and organizing) before the first day pictures get taken and we're back on the hamster wheel that is a school year schedule.
As I do every August, I'm looking at opportunities to cook double or triple batches of things and get them into the chest freezer so we've got ready-to-go meals on busy nights. I have found that I don't need as many things frozen as I once thought I might; I think I've gotten so good at pulling together quick meals that putting dinner on the table even when things are hectic doesn't feel as daunting as it once did. But there are definitely evenings already on the calendar for this fall when I won't be able to do much until everyone's already starving, and for those nights, the freezer meals are a must.
So as many longtime readers have come to expect at this point in the year: I'll be marking on the meal plan this month where the opportunities are for freezer-friendly dinners. I don't do a lot of separate batch cooking because it just feels like so much more work to make extra stuff to stash away, preferring instead to make MORE of what I'm making already  — that way I can convince myself I'm only dealing with leftovers, no big deal, but we'll just pop this in the freezer because there's conveniently so much of it.
As a side note: I used to try to get all fancy with my freezer meals and try all kinds of new things. But I've realized as the kids get older and I value my own time more than I used to (learn from my mistakes, people) that there's no sense in doing that. The best freezer meals are the ones you can pull out and heat up knowing that pretty much everyone at the table is going to be happy to see what's on their plates. At this point in our lives, I stick to tried-and-true family favorites, and I'll be slinging them into freezer-safe containers throughout August and September so that by the time the late-fall/holidays scheduling gauntlet arrives, we'll have lots of meals put by that will make us smile.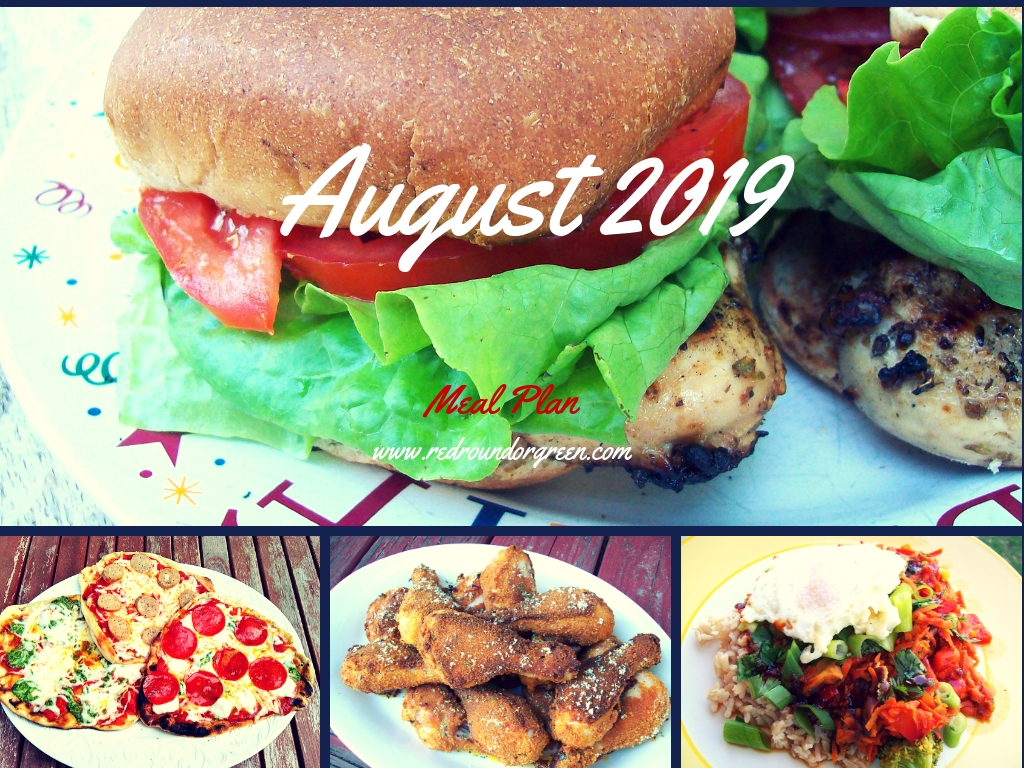 WEEK ONE:
Thursday, 8/1-Saturday, 8/3: I'll still be away from home and the family will be scattered across three different locations, so nothing planned. YET.
Sunday, 8/4: All of us back in one location, but only just in time for an engagement we had on our calendar ages ago. Dinner out tonight.
Monday, 8/5: Penne vodka and salad, because I'm easing back into cooking with something easy and happy-making.
Tuesday, 8/6: Fajitas, rice and beans
Wednesday, 8/7: L.'s 13th birthday! We're headed to a local park for a concert and food trucks with his friends.
WEEK TWO:
Thursday, 8/8: Breakfast for dinner
Friday, 8/9: Grilled chicken sandwiches and grilled vegetables
Saturday, 8/10: A proper birthday dinner for L. and J. — probably lobster and birthday cake and whatever else they want to eat tonight
Sunday, 8/11: FREEZER MEAL ALERT! Chicken tikka masala (triple recipe) with rice and cucumber raita.
Monday, 8/12: Spaghetti with fresh tomatoes and basil, salad
Tuesday, 8/13: Sheet pan chicken nachos
Wednesday, 8/14: Homemade pizzas
WEEK THREE:
Thursday, 8/15: Smoked sausage and potato frittata, salad
Friday, 8/16: Baked gnocchi with greens, tomatoes and fresh mozzarella
Saturday, 8/17: Kibbeh and side salads
Sunday, 8/18: Fresh seafood
Monday, 8/19: Bibimbap
Tuesday, 8/20: FREEZER MEAL ALERT! Beef tacos — I'll make extra filling and pop into the freezer for later
Wednesday, 8/21: Falafel (Tyler Florence) with homemade pita and tabbouleh
WEEK FOUR:
Thursday, 8/22: Oven-fried chicken, mashed potatoes and vegetables
Friday, 8/23: Grilled sausages and assorted salads
Saturday, 8/24: Fresh seafood
Sunday, 8/25: FREEZER MEAL ALERT! Chicken and zucchini parmigiana (double recipe), pasta
Monday, 8/26: Tomato-basil risotto (MyRecipes), salad
Tuesday, 8/27: Taco salad with roasted sweet potatoes and black beans
Wednesday, 8/28: Poached eggs with creamy chickpeas (Epicurious), bread, salad
WEEK FIVE:
Thursday, 8/29: FREEZER MEAL ALERT! Simplest stuffed peppers, bread
Friday, 8/30: Burger night
Saturday, 8/31: Fresh seafood