Life is change.
It may not always feel like it — sometimes, things get monotonous, and you might think "nothing ever changes around here." You might feel stuck, even. But the truth is, things are ALWAYS changing around us, and the odds are that just when you feel the most stuck or the most complacent or the most settled, life is about to hand you some sort of shake-up to deal with.
I'm reflecting on change this month because there are some changes coming in our lives, and also, because our day-to-day has started to shift noticeably enough that I am acutely aware all of a sudden that things right now are almost entirely different than they were five years ago. I mean, ENTIRELY different. Five years ago, my husband J. and I had both abruptly left long-held jobs and were taking on new opportunities. I was launching my own consulting and freelancing business with absolutely no idea how it was going to turn out. We were still grappling with the costs of child care and the toll that long days at school and camp and after-care were taking on our kids, especially L., our older child with special needs. Five years ago, we were dealing with debts we'd had to rack up despite our best efforts, mounting financial pressures, a relatively new and difficult diagnosis for L., and a whole lot of uncertainty.
This July, we're in a different place. My leap of faith has gone well, both professionally and personally. We're financially stronger and stronger as a family than we were back then. My kids have benefited from having me around more for them. (Please note: I'm ONE HUNDRED PERCENT NOT JUDGING ANYBODY for how they manage work, life and parenting. This is OUR experience, not a commentary on anyone else's. What works best for us isn't "right," just "right for us right now.") And we find ourselves with a child on the cusp of adolescence, which is a different parenting ball game than it used to be, who is ready to head off to his first two sleep-away camp experiences starting this month. Meanwhile, J. is taking a chance on a new job that will throw our entire family schedule and established way of life upside-down. I think it's great, but like all change, it's scary, and it's going to mean that dinnertime is different, family time is different, everything will be just a little bit different.
Everything changes. Life is change.
So what does that mean for meal planning? Well, everything and nothing. I'm still going to plan just like I always have. I just have to think about different things now. When will family members be eating what I cook? Who's going to be around each evening? Would it be better to have family lunches or breakfasts instead of dinners on some days? And with J. around a little less when I'm used to having his help, how will I get the boys to step up and help more?
Big questions without clear answers just now. So I'm just planning, hoping, and putting my faith in our ability to roll with the punches. Life is change. And that can be a good thing.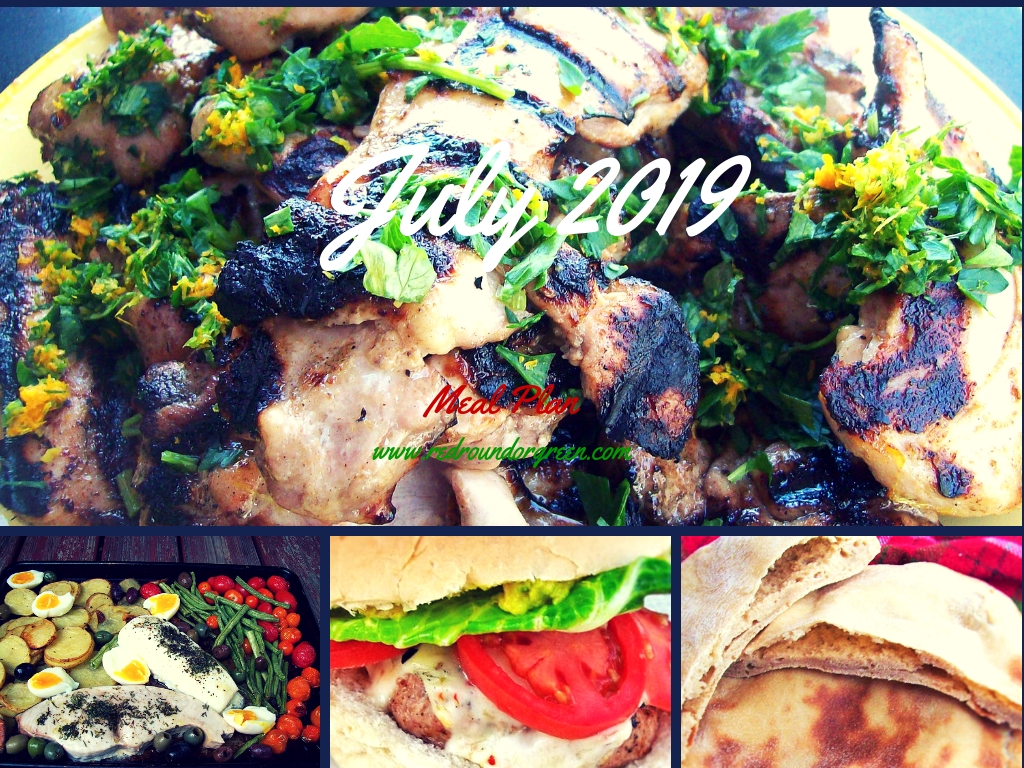 WEEK ONE
Monday, 7/1: Salad pizza
Tuesday, 7/2: Taco salad
Wednesday, 7/3: Loco Moco and broccoli
Thursday, 7/4: Breakfast for dinner
Friday, 7/5: Snack plate
Saturday, 7/6: Fresh seafood
Sunday, 7/7: Penne vodka and salad
WEEK TWO: L. is at sleep-away camp this week, so P. created the menu — a sort of "P.'s greatest hits!"
Monday, 7/8: Sushi bowls
Tuesday, 7/9: Breakfast burritos
Wednesday, 7/10: Chicken and broccoli alfredo
Thursday, 7/11: Pesto pizza
Friday, 7/12: Chicken quesadillas
Saturday, 7/13: We'll take the boys out after picking L. up at camp
Sunday, 7/14: Falafel  (Tyler Florence) and pita
WEEK THREE:
Monday, 7/15: Vegetable fried rice
Tuesday, 7/16: Roasted garlic and chicken pasta salad, tomato-cucumber salad
Wednesday, 7/17: Lamb burgers in pita (Epicurious), salads
Thursday, 7/18: Spaghetti with fresh tomato sauce
Friday, 7/19: Omelets and toast
Saturday, 7/20: Fresh seafood
Sunday, 7/21: Citrus grilled chicken, vegetables and couscous
WEEK FOUR:
Monday, 7/22: Tomato-basil risotto (MyRecipes) and salad
Tuesday, 7/23: Chicken Caesar salad
Wednesday, 7/24: Beans and greens on toast (Epicurious)
Thursday, 7/25: Turkey taco burgers (The Family Dinner Project) and potato wedges
Friday, 7/26: 10-minute sausage skillet with cherry tomatoes and broccolini (Epicurious)
Saturday, 7/27 – Wednesday, 7/31: L. will be at another resident camp. This time, P. and I will be spending the week at my father's house, closer to the camp, while J. holds down the fort at home. No meal plan for this week, though I'm sure I'll be in charge of dinner while we're at my dad's place!