It's a new year and a new decade* (*okay, not really, but it FEELS like a new decade, doesn't it?) and I realized I never posted the December meal plan. I'm so sorry, and also, totally fine with this snafu. Life was happening outside the internet.
I find, at the start of 2020, that I don't want to make any resolutions particularly. I don't want to try for some grand scheme of self-improvement or life improvement. At first I was worried that something was wrong with me, because I wasn't striving for anything, but then I realized that I'm not trying to set any particular goal for this year because I am ALREADY in the middle of a process that's working pretty well for me. Last year I decided to try to pursue joy in its various forms, after coming out of the darkness of  terrible year for our family. I didn't necessarily get there all the time (or maybe I just didn't recognize that I was there — isn't that awful, how we fail to realize how good we have it in the present moment?), but I feel like the pursuit at least clarified some things for me. I got a little inspired again. I got a little more comfortable with our direction as a family. And I started to feel pretty settled and even grateful, in a meaningful way, again.
These are all good things. I don't want to mess with them. And I don't need to do MORE to keep this going, I've realized. In fact, I need to do LESS. So for 2020, my intention — if I have one — is to just keep things really simple (insofar as such a thing is possible). I want to cut through all the extraneous noise and clutter of life and just keep taking in whatever moment we're in. I want to notice it all a little more. And hopefully, in noticing, appreciate it.
So here I sit at the start of 2020, my notebook in front of me as always, a meal plan written as always, and the only thing I can think of is just breathe. Slowly, gently, deeply, carefully, persistently. Take a breath. Life will always be busy. Things will always fall apart in ways we don't expect. We can still be deliberate. We can still be grateful. We can still appreciate and notice the details. We can still breathe.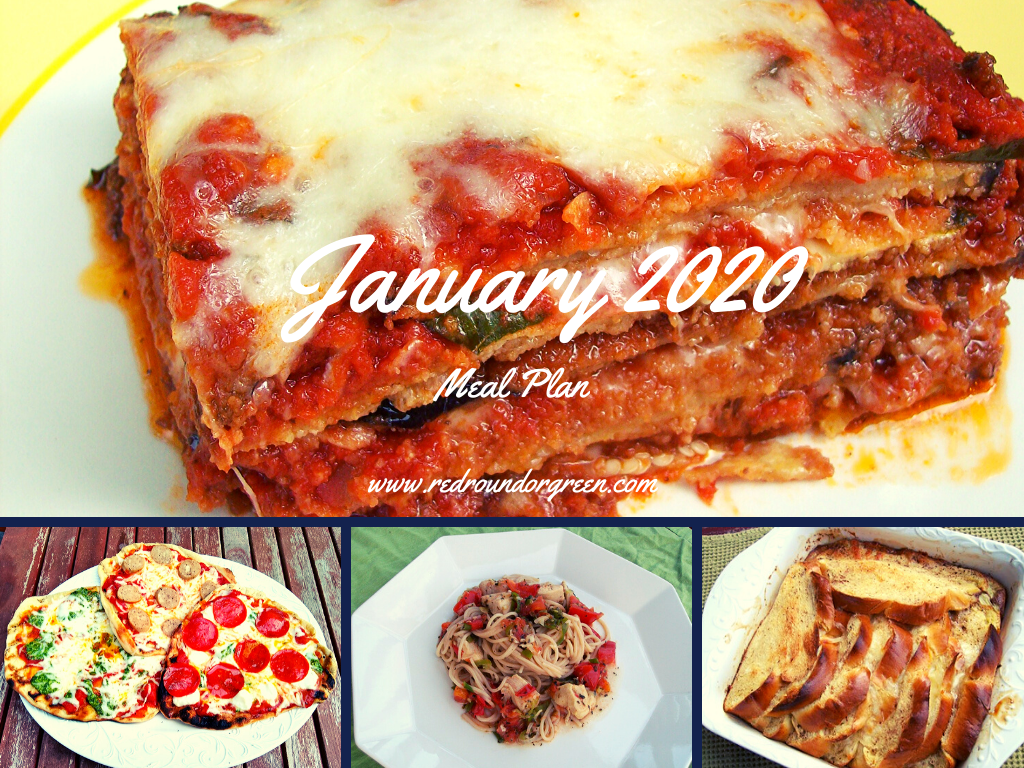 WEEK ONE
Wednesday, 1/1: New Year's Day: Brunch and then ham and bean soup using our Christmas ham bone.
Thursday, 1/2: Back to reality and busy Thursday evenings. Buffalo-inspired lettuce wraps and potato wedges.
Friday, 1/3: My mom's old hamburger grinder recipe, because everyone will just need a break already, I know it.
Saturday, 1/4: 40 clove garlic chicken (Ina Garten), mashed potatoes and vegetables
Sunday, 1/5: Cottage pie and salad
Monday, 1/6: Penne vodka and broccolini
Tuesday, 1/7: P.'s favorite chicken quesadillas on sourdough tortillas
WEEK TWO
Wednesday, 1/8: Smoked sausage and potato frittata, salad
Thursday, 1/9: Graupensuppe (sausage and farro soup – Saveur), bread
Friday, 1/10: Loco moco and broccoli
Saturday, 1/11: Baked gnocchi with greens and mozzarella
Sunday, 1/12: Fettuccine bolognese (Saveur) and salad
Monday, 1/13: Vegetable stir fry and rice
Tuesday, 1/14: Breakfast burritos and fruit
WEEK THREE
Wednesday, 1/15: Pasta poulet and salad
Thursday, 1/16: Broccoli cheese soup, bread
Friday, 1/17: Lamb meatballs, couscous and vegetables
Saturday, 1/18: Eggplant parmigiana and garlic bread
Sunday, 1/19: Sunday Roast Chicken dinner
Monday, 1/20: Beans and greens on toast (Epicurious), baked apples
Tuesday, 1/21: Chicken sheet pan nachos
WEEK FOUR
Wednesday, 1/22: Pasta with pancetta and peas, salad
Thursday, 1/23: Chicken soup with rice
Friday, 1/24: Holding off on this evening's plan – I have an errand to run with L. in the afternoon and don't know how long it's going to take
Saturday, 1/25: Homemade pizzas
Sunday, 1/26: Pulled pork with rice and apple-cabbage slaw
Monday, 1/27: Fried egg banh mi (Epicurious)
Tuesday, 1/28: Turkey chili
WEEK FIVE
Wednesday, 1/29: Cornflake crusted chicken, rice and vegetables
Thursday, 1/30: Elbows with mini meatballs
Friday, 1/31: Breakfast for dinner