Oh, sure, I'm super organized.
I meal plan a month at a time, and since I carry my spiral notebook everywhere I go (and spend lots of time waiting around for kids to finish up activities), I generally have a few months' worth of menus done and banked well in advance. I find grocery shopping to be fairly quick and painless, usually, because knowing what I'm going to make means that I can pull together a list and cruise the aisles grabbing all my familiar go-tos pretty quickly. I almost never have that panicked "Oh crap, what are we going to eat?" feeling.
And yet. YET. You may have noticed that November has been underway for a while now, and there was no meal plan posted. How did this happen? Welp. It happened because I've had a November meal plan written in my notebook for quite some time now (I think I started it in..August?…maybe?) but when ACTUAL November came around, it became clear that the real-life calendar — as opposed to the calendar I'd sort of envisioned in my head when I did the planning — was prepared to kick my butt.
So I started changing things and moving things around, and then there were arrows drawn all over the page, and then there were strike-throughs and comments in the margins, and four or five different ink colors because Lord help me, you might think I'm organized but I can never keep track of a pen consistently. And finally I realized that look, friends, it's November 11th and this whole thing is STILL kind of a work in progress. So here's the unvarnished truth of where we are right now, subject to change, BUT IT'S BETTER THAN NOT HAVING A PLAN AT ALL.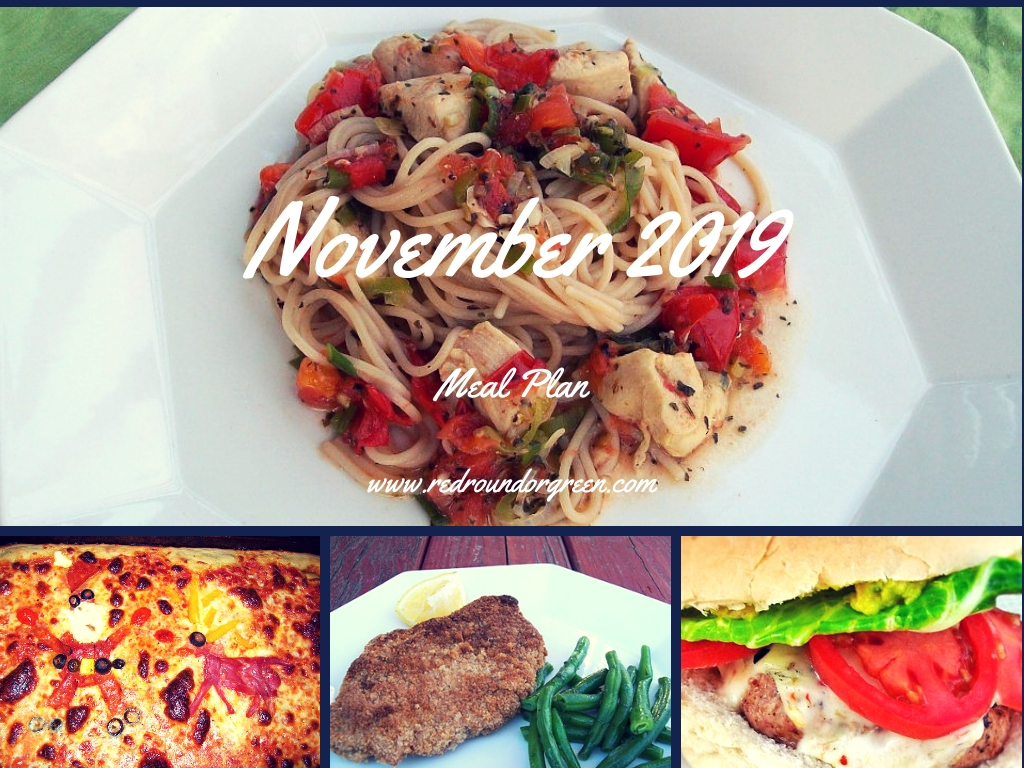 WEEK ONE:
Friday, 11/1: Originally I planned Szechuan beef and rice. Then my dad visited during the week before, and I moved that dinner up because it's one of his favorites. Then I planned to make falafel and pitas but then Friday came and I was buried under a mountain of work and hadn't even grocery shopped and didn't have time to get to the store. I laughed and laughed and then cried a little, maybe. At some point J. suggested ordering takeout from the neighborhood cafe. I had a veggie burger with mango chutney and washed it down with wine. That's the longest explanation of a single day's meal plan I've ever written. Thanks for the catharsis.
Saturday, 11/2: We were going to have seafood from the farmer's market. Did I mention the farmer's market closed down a week earlier than I expected? This was a good opportunity to get the falafel and pita back on the menu.
Sunday, 11/3: I had planned schnitzel and all the fixings, which is a favorite for the kids but also a bit time consuming. As it turns out, L. had a concert and I was rushing around all day, but hams were on sale at the store so we had a baked ham, twice-baked potatoes (because I could make them in advance and just finish them next to the ham) and broccoli.
Monday, 11/4: Baked gnocchi with marinara, kale and fresh mozzarella. We actually pulled this off, and I felt very accomplished.
Tuesday, 11/5: Turkey taco burgers and roasted potato wedges. Again, mission accomplished, as if things were back to normal.
Wednesday, 11/6: I had a dress rehearsal, but I managed to pull together a German farro and vegetable soup and a loaf of bread to leave for the guys.
Thursday, 11/7: As I sat typing this I realized that I'd planned to make baked eggs with toast and cream, and a side salad. But the loaf of bread I baked on Wednesday was already gone (darned growing boys). There was no toast. But there WAS a bag of homemade chicken tikka masala in the freezer and rice in the pantry. Plan B!
WEEK TWO:
Friday, 11/8: I had another dress rehearsal. I'm not even going to pretend at this point. Yet another freezer meal: Chicken and eggplant parm.
Saturday, 11/9: I needed to be at the theatre by 5:15 for a performance. I gave J. sad eyes. He said he'd handle it, and there was sushi waiting for me when I got home at 9:30. Bless.
Sunday, 11/10: Back on track, after L. had a performance early in the afternoon. Pasta Poulet. I can marinate tomorrow's pork shoulder while I'm making tonight's dinner, which will give me the sense that I'm remotely put together.
Monday, 11/11: Char siu pork shoulder, bok choy and rice.
Tuesday, 11/12: Roasted vegetable and black bean tacos
Wednesday, 11/13: Sweet potato and kale sheet pan dinner with baked eggs and crusty bread
Thursday, 11/14: Kale and Brussels sprouts Caesar salad with chicken
WEEK THREE:
Friday, 11/15: Loco moco and broccoli
Saturday, 11/16: We've been invited to dinner at a friend's house. I'm instructed to bring sourdough ciabatta.
Sunday, 11/17: Sunday Roast Chicken dinner, which I suspect I'll need at this point in the month, just to restore my equilibrium. Nothing says sanity like a roast chicken (or two). ALSO: Making and freezing (unbaked) the crescent rolls for Thanksgiving dinner.
Monday, 11/18: Creamy mushroom pasta and salad
Tuesday, 11/19: Chicken and veggie quesadillas
Wednesday, 11/20: Broccoli toasts and roasted vegetables
Thursday, 11/21: Loaded potato soup
WEEK FOUR:
Friday, 11/22: Snack plate for the guys, and I actually *may* be going to out to dinner with some friends.
Saturday, 11/23: I was planning chicken and dumplings, but it now appears that we might be seeing family tonight. ALSO: P. and I will make the cranberry sauces for Thanksgiving.
Sunday, 11/24: Salisbury lamb patties with couscous and veggies. ALSO: A big slow cooker of turkey stock (using some parts I have hanging around in the freezer) so we're ready to go for gravy and stuffing on the big day.
Monday, 11/25: Kung pao vegetables and rice. ALSO: making the pancetta/sage/lemon butter I'll use on my turkey, and making a crust for the pecan pie.
Tuesday, 11/26: Tacos. ALSO: Roasting several heads of garlic for Thanksgiving garlic mashed potatoes, baking a cranberry-key lime pie, and cutting up two turkeys because they're so much easier to roast when they're in pieces.
Wednesday, 11/27: Breakfast for dinner. ALSO: Making a gravy starter, assembling green bean bundles, baking the pecan pie and peeling a bunch of shallots.
Thursday, 11/28: Thanksgiving dinner! Pancetta and sage turkey, sherry gravy, roasted garlic mashed potatoes, stuffing, sweet potatoes, butternut squash with apples and ginger, green bean and bacon bundles, glazed shallots, whole berry cranberry sauce and spiced apple-cranberry relish, crescent rolls, pecan pie, cranberry key lime pie, New Jersey style crumb cake.
WEEK FIVE:
Friday, 11/29: I AM GOING ON STRIKE.
Saturday, 11/30: Homemade pizzas, as we do every year on the Saturday after Thanksgiving. Tradition reigns!