Farmer's Market Haul from Saturday Morning…
1/2 lb salad mix
2 bunches red beets
1 lb spinach
Papaya squash
2 pints strawberries (not pictured)
12 tomatoes
5 honey sticks (not pictured)
1 bunch radishes
1 packet seeds for Provider Bush Beans (free, thanks to the Farm Fresh RI OneSeed program)
Grand total: $40
And look…the salad mix has little edible flowers in it!
Tonight: Ratatouille with dinner, using some of the squash and tomatoes, along with caramelized onion, garlic, and lots of fresh basil.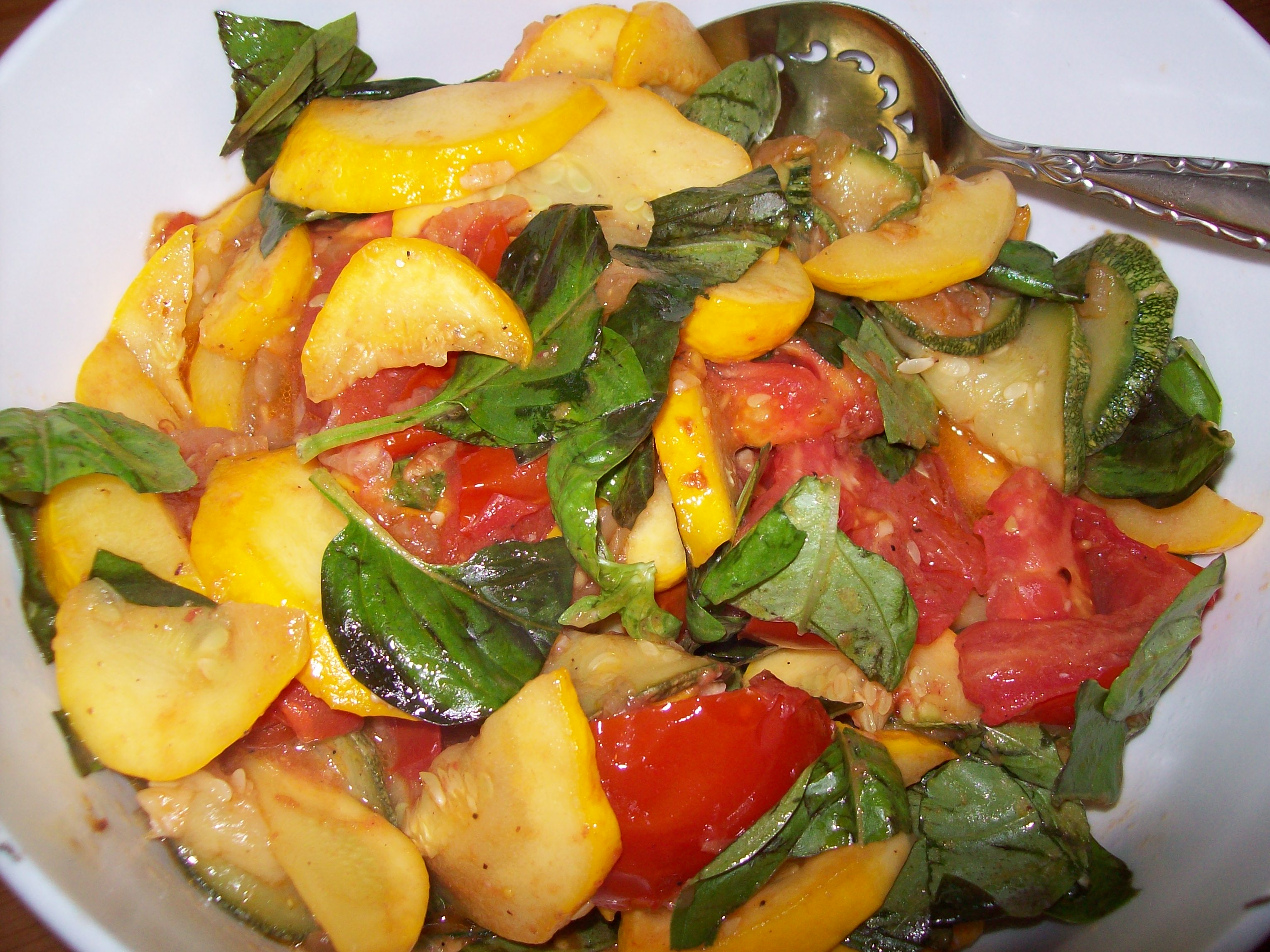 And for the next eight weeks or so, it only gets better.  I love summer.
Easy Farmer's Market Ratatouille
3 tablespoons olive oil
1 medium onion, sliced thinly (I like to use Vidalia for this if I can get them)
2-3 cloves garlic, chopped
1/4 tsp. crushed red pepper flakes
4 cups sliced yellow squash, zucchini, or a mixture of the two (you can also add eggplant)
2 medium tomatoes, cut into eighths
1/2 cup torn fresh basil leaves
salt and pepper
In a large skillet over low heat, saute the onion and garlic in the olive oil until soft and golden brown, about 20 minutes.  Add the crushed red pepper flakes and sprinkle with salt and pepper.  Add the squash and/or zucchini and saute over medium heat, stirring frequently, about 10 minutes or until the squash is just tender.  Add the tomatoes and continue to cook for about 5 minutes, until the tomatoes are softened and have released some of their juices into the pan.  Taste and adjust the seasonings.  Remove from the heat and stir in the torn basil leaves.  Serve immediately.